MIDCO Pipe Joint Restraints Tests Successful on PVCO and HDPE Pipe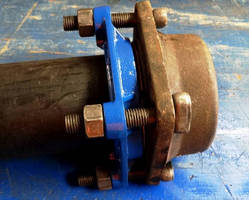 Midland Manufacturing has successfully tested its Style 30 MIDCO 360 Joint Restraint system on PVCO (IPS and C909), which is molecularly modified PCV which is also known as Ultra Blue, and on HPDE (polyethylene) using a 304 stainless steel stiffener or insert (included in our kits).



The MIDCO 360 Joint Restraint system has been previously tested to the ASTM F1674 specifications and successfully used on PVC (IPS, C900) pipe for over 30 years with no known or reported failures. A few months ago, this same MIDCO product has been successfully tested on the PVCO and HDPE pipe products. See the test details on the 'Submittals' section of our website in the Test Reports category.



The essence of the test determined that at the MIDCO 360 Joint Restraint effectively showed no detectable failures, damage to the pipe, or leakage for the series of both sustained and cyclical pressure tests. Based upon these test results and its successful installation history, Midland Manufacturing is recommending the MIDCO 360 Joint Restraint for use on all PCV (IPS and C900), PVCO (IPS and C(909), and HDPE using our 304 stainless steel stiffener/insert  for pipe sizes 2"-12".



This is an opportunity that now allows distributors and end users to simplify their warehousing, inventory, and their overall supply chain management. The MIDCO is the only pipe joint restraint needed to fulfill all mechanical joint applications and many coupling applications as well. The easy to install 360 degree bronze grip ring, cast iron gland and gasket has already made the MIDCO the product of choice for numerous counties, municipalities, rural water districts throughout Texas, Arkansas and Oklahoma with the list growing every month.



Visit our website at http://www.midland-midco.com/municipal.htm for more detailed information on the MIDCO product line, their applications and specifications options for our MIDCO 360 Joint Restraint kits. Or feel free to contact Owen Daniel at bigo@midland-midco.com or call at 1-800-678-4848.





More from Electrical Equipment & Systems