Lindberg/MPH Ships Atmosphere Box Furnace to the Steel and Mining Industry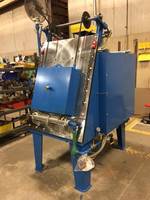 July 26, 2017 - Lindberg/MPH announced the shipment of an electrically heated, rod over-bend atmosphere box furnace to the steel and mining industry. This is the second heat treating furnace of this kind that the customer has ordered from Lindberg/MPH. It is designed to meet the customer's specific process based on the previous existing model they had ordered.
The atmosphere box furnace has work chamber dimensions of 15"W x 30"D x 12" H and a maximum temperature rating of 2000°F. The furnace is constructed with a gas tight steel shell made from continuous welded steel plate reinforced with structural steel members.
The furnace door lifts up to provide access to the work chamber and is sealed by metal to metal contact to eliminate gasket wear and maintenance. The door is raised and lowered by an air cylinder with roller chain. A natural gas flame curtain is provided for the door area and is activated when the front door is opened to ignite exiting combustible atmosphere and minimize air infiltration back into the purge chamber. The furnace chamber is heated with a radiant heating system.
The atmosphere system includes a nitrogen flow meter, hydrogen flow meter, argon flow meter, CO flow meter, and CO2 flow meter. An atmosphere saturator allows variation of the moisture dew point of the nitrogen that is flowing to the furnace chamber. The saturator tank is fabricated of 304 Stainless Steel. The dew point is controlled from a dew point transmitter located in the nitrogen atmosphere line before entering the furnace chamber. Dew point is also monitored through a sample port located in the side of the furnace chamber.
"At Lindberg/MPH we pride ourselves on having the experience to design our equipment to meet the most stringent requirements. This customer's process required the furnace to provide six different gas atmospheres. This is the second system we have shipped to them with this advanced atmosphere system."- Kelley Shreve, Sales Representative
Unique features of these Lindberg/MPH atmosphere box furnace include:
Maximum gross load capacity is 465 lbs. at 2000°F
Six (6) different gas atmospheres including: nitrogen, hydrogen, endothermic, argon, CO and CO2
460 volts, 3 phase, 3-wire, 60 Hertz
Door limit switch
HC900 Advanced Furnace Control System
Honeywell UDC 2500 Series Excess Temperature Controller
Electrical solenoid valves
Electronic flow control valves and moisture transducer
Immersion water heater
The atmosphere box furnace is completely factory assembled, pre-wired, piped and tested prior to shipment. All Lindberg/MPH equipment comes with an exclusive 3-year warranty, which covers all materials for all components (less wear items).
About Lindberg/MPH
Lindberg/MPH is a leading manufacturer of standard and custom industrial heat treat furnaces, including pit, box, IQ, and belt type for the ferrous and non-ferrous markets. Lindberg/MPH customers cover a wide range of industries including aerospace/military, automotive, commercial heat treating, energy/oil, electronics and the forging markets. Founded in 1917, the company has more than 75,000 industrial furnace installations worldwide and their equipment is backed by a full range of customer support services and the most extensive replacement parts inventory in the industry. Lindberg/MPH is a proven leader in the thermal processing industry, with a long track record of proven policies and management practices.
Lindberg/MPH is owned by Thermal Product Solutions ("TPS"), a leading American manufacturer of industrial ovens, furnaces, pharmaceutical sterilizers, laboratory ovens, environmental temperature chambers, and stability test chambers. TPS provides thermal processing and test solutions for a range of industries. TPS brands include Baker Furnace, Blue M, Gruenberg, Tenney, Lindberg, Lunaire, MPH, and Wisconsin Oven. For more information on equipment solutions from TPS visit the website at www.thermalproductsolutions.com.
Lindberg/MPH
3827 Riverside Road
Riverside, MI 49084 USA
T: 269.849.2700
F: 269.849.3021
Related