Kurt Workholding Revamps 5-axis Vise Lineup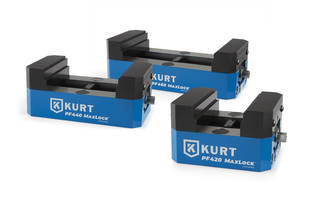 Three new Precision Force 5-axis vises feature robot-ready design and Kurt AngLock® tech for maximum workholding strength and adaptability.
July 27, 2020 - Minneapolis, Minn. – Minneapolis-based Kurt Workholding announced the launch of its new Precision Force 5-Axis MaxLock™ vise lineup featuring 3 new models with 3 available jaw options. Robot-ready Kurt PF-series vises offer new user-friendly features including easy-to-adjust lash and 52mm spacing for automation-ready mounting systems to adapt to competitors' zero-point systems.
The new Quick Centerline Adjustment makes centerline adjustment fast and efficient and keeps parts perfectly positioned. New spring-loaded gibs keep parts square and are designed to maximize part-positioning repeatability through multiple cycles.
Kurt's PF 420, PF 440 and PF 460 vises come with standard 4-inch jaw width and jaw openings ranging from 2.625" to 6.625" making them the perfect vise for any customer's workholding applications. PF-series vises replace the previous Kurt HP models and feature the patented AngLock® design to minimize jaw lift and deflection. The proven AngLock® design naturally pushes the vise jaws down and forward allowing much greater surface contact on parts—maximizing holding strength with less clamp force.
"We wanted to bring a family of 5-axis vises to market that holds parts securely, keeps parts square with excellent repeatability and that are reliable and affordable," said Steve Kane, Kurt Workholding Sales and Marketing Manager. "We are confident that the PF-series vises will address our customers' workholding requirements and reduce operational costs."
Available in three jaw configurations, with either carvable, dovetail or serrated jaws, customers can save the added expense of buying a jaw set they don't need with a PF-series vise. All jaw sets are also sold complete and separately.
Kurt PF-Series Vises will be available in August through distributors and at kurtworkholding.com.
About Kurt Workholding
Kurt Workholding has set the standard for quality and reliability with machine vises and workholding technology for over 60 years. Designed, manufactured and assembled in the USA, Kurt manufactures and sells a complete line of workholding products for the machining industry. The innovative angle-lock design vises have built our reputation and allowed expansion into a variety of other manufacturing sectors including 5-axis vises, workholding towers, automation and quality control. Kurt Workholding also provides manufacturers custom engineered solutions to help them maximize efficiency and quality. 
100% employee-owned Kurt Workholding is a division of Kurt Manufacturing based near Minneapolis, MN. Operating in a state-of-the-art facility with multiple workstations, production lines and integrated automation with in-house design, engineering, production, assembly and shipping. Kurt employees own the manufacturing process from start to finish.
Media Contact:
Steve Kane, Kurt Workholding, 763.572.4631, SKane@kurt.com
More from Electrical Equipment & Systems