Kontron COBALT 904 Cabin Media Server Selected by Rockwell Collins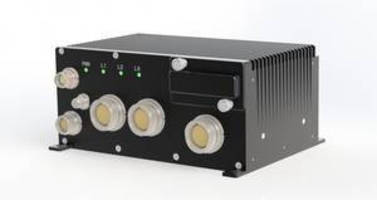 Augsburg, GERMANY – Kontron, a global market leader for embedded computing technology (ECT), today announced that Rockwell Collins has selected the COBALT 904 as the media server that will host its new Stage™ content service, and it will also be integrated with its Venue™ cabin management and entertainment system.



The powerful, highly-integrated, yet small COBALT 904 Avionics Server offers the latest in processing performance and supports a comprehensive list of interfaces including ARINC 429, USB 2.0, USB 3.0 (for high speed content loading), six (6) GbE ports, HDMI, Avionics Discretes, Maintenance Port, RS485/RS422, and Audio used by commercial airlines and business jets.



"As an Open Certified Platform, we designed the COBALT 904 Avionics Server to help accelerate our customer's time-to-market using the latest in embedded technology" said Jim Vandesteeg, Avionics Business Line Manager at Kontron. "We are thrilled to enhance our established relationship with Rockwell Collins where they can leverage the scalability and development flexibility this platform offers to meet the specific requirements of a diverse range of business jet deployments."



Kontron's COBALT 904 Avionics Server is specifically designed for the limited physical space, compact and reliable performance needs of the commercial avionics market. Powered by its COM Express® (COMe) Type 6 computer-on-module that delivers Intel® Dual Core i5 performance and a specialized carrier board assembly, the COBALT 904 provides the highly ruggedized features and power-to-performance optimization needed for commercial and business jet deployments. This platform provides not only airborne applications such as HD video streaming, but also enhanced connectivity for crew services or fast content updates via the system's high speed USB 3.0 data transfer capabilities. Certification to DO-160G avionics standard for the COBALT 904 is underway and anticipated to be complete in early 2016.



For more detailed COBALT 904 product information, please visit:

http://www.kontron.com/industries/avionics/cobalt-904-avionics-server.html



About Kontron

Kontron, a global leader in embedded computing technology and trusted advisor in IoT, works closely with its customers, allowing them to focus on their core competencies by offering a complete and integrated portfolio of hardware, software and services designed to help them make the most of their applications. With a significant percentage of employees in research and development, Kontron creates many of the standards that drive the world's embedded computing platforms; bringing to life numerous technologies and applications that touch millions of lives. The result is an accelerated time-to-market, reduced total-cost-of-ownership, product longevity and the best possible overall application with leading-edge, highest reliability embedded technology. Kontron is a listed company. Its shares are traded in the Prime Standard segment of the Frankfurt Stock Exchange and on other exchanges under the symbol "KBC."



For more information, please visit: www.kontron.com



Media Contacts



Europe, Middle East and Africa



Chari Lazaridis

Kontron

Tel: +49 (0) 821 4086-484

chari.lazaridis@kontron.com

Martin Farjah



North America

Brian Surritt

Kontron

Tel: +1 858-623-3093

brian.surritt@kontron.com



Asia Pacific

Brian Surritt

Kontron

Tel: +1 858-623-3093

brian.surritt@kontron.com



All rights reserved. Kontron is a trademark or registered trademark of Kontron AG. Intel® and Intel® Core™ are trademarks or registered trademarks of Intel® Corporation in the US and other countries. PICMG® and COM Express® are trademarks or registered trademarks of the PCI Industrial Computers Manufacturers Group. SMARC ™ is a trademark of the SGET e.V. (Standardization Group for Embedded Technologies e.V.). All other brand or product names are trademarks or registered trademarks or copyrights by their respective owners and are recognized.

More from Sensors, Monitors & Transducers