Kennametal Launches Beyond BLAST(TM) at IMTS 2010, Booth W-1522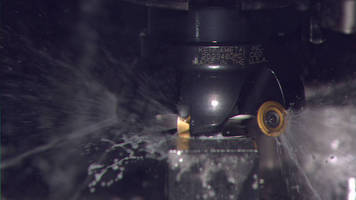 Game-changing interface of tooling and coolant delivers outstanding tool life and productivity improvements

(LATROBE, PA ) - With its introduction at IMTS 2008, Kennametal's innovative Beyond(TM) platform of high-performance turning products have garnered exceptional reviews from Kennametal customers worldwide. Due to higher metal-removal rates and extended tool life, these products are resulting in productivity improvements of 30% or more for a broad spectrum of metalworking users. "Depending on the application, field tests have shown anywhere from 30% to 300% improvement," says Ujjwal (UJ) Baid, Kennametal Senior Product Manager.

Now, Kennametal is taking another giant step forward by introducing Beyond BLAST(TM) at IMTS 2010, Booth W-1522. By channeling coolant through the insert, at the interface of the milling cutter and insert, Beyond BLAST delivers coolant directly where the tool cuts the material, ensuring efficient coolant delivery, heat transfer, and lubricity.

Addressing Friction

Optimizing high-speed milling applications equates to a decision to maximize a company's milling productivity and reduce manufacturing costs. Speeds (sfm/Vc) and feeds make a big difference, as does achieving maximum metal removal (MMR).

Mechanical cutting generates frictional heat. And at high cutting speeds, the rate at which heat is absorbed by the tool increases with velocity. To optimize their performance, tools must be adequately cooled. Proper coolant flow means improved tool life and higher maximum effective cutting speeds. If not properly cooled, the insert will heat up rapidly. This can shorten tool life and affect surface finish, because of built-up edge (BUE), where workpiece material bonds to the cutting edge.

Traditional flood coolant jets are uncontrolled and wasteful, aimed at the cut often hit behind the cutting zone, and custom high-pressure solutions (1,000 psi or higher), can cost tens of thousands of dollars to install and maintain. With Beyond BLAST(TM), coolant is delivered through the insert, at the interface of the milling cutter and insert - delivering the best of both worlds.

"In tests involving titanium turning, Beyond BLAST inserts at 100 psi were showing 75% improvement in tool life over the same inserts with flood coolant at 100 psi," says Senior Product Manager Osny Fabricio. "In a different test to evaluate the influence of coolant pressure, tool life for Beyond BLAST at 100 psi was nearly that of identical insert geometries at 1,000 psi - higher cutting conditions or longer tool life at significantly lower cost."

In milling tests involving titanium (TiAl6V4), the results are even more spectacular, with tool life increases of 250 to 300 percent depending on the insert geometry and cutting conditions.

"With Beyond BLAST, the result gives Kennametal a new and improved turning and milling product portfolio and it's very easy for metalworking companies to upgrade their manufacturing processes," says Fabricio. "It's a plug and play solution."

For more on Beyond BLAST, visit www.kennametal.com.

Kennametal Inc.

Kennametal Inc. (NYSE: KMT) delivers productivity to customers seeking peak performance in demanding environments by providing innovative custom and standard wear-resistant solutions. This proven productivity is enabled through our advanced materials sciences and application knowledge. Our commitment to a sustainable environment provides additional value to our customers. Companies operating in everything from airframes to coal mining, from engines to oil wells and from turbochargers to construction recognize Kennametal for extraordinary contributions to their value chains. In fiscal year 2009, customers bought approximately $2.0 billion of Kennametal products and services - delivered by our nearly 12,000 talented employees doing business in more than 60 countries - with more than 50 percent of these revenues coming from outside North America. Visit us at www.kennametal.com.

Kennametal Inc.,

Latrobe, PA;

(800) 446-7738.

Beyond BLAST(TM) from Kennametal delivers coolant from the insert, significantly extending tool life and performance.