IEC Appliance Outlets with up to Four Light Pipes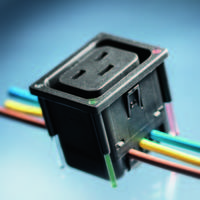 Integrated status indication makes room for increased packing density in PDUs.
Santa Rosa, California, March 27 th, 2023 – SCHURTER's 6610-5 and 4710-5 IEC appliance outlets, Type F and J, are the optimal solution for data center PDUs, where status indication and packing density are critical. Their compact design allows for tight mounting in multiples and provides up to four LEDs for status indication.
The outlet series is designed to provide a space and cost savings approach to PDU strip assemblies where an indication is often used to signal the equipment technician regarding system status of one kind or another, for instance, power surges and sags. Precisely fitted light guides provide support for light pipes in one or all corners of the outlet. The operation of each of the LEDs, mounted on the PCB, is channeled to the enclosure surface to indicate status. The light pipes are ordered as an accessory to be inserted after the outlets have been mounted and wired. Outlets are offered in black, white, and grey for multiphase distinction.
IDC terminals are especially efficient, allowing several outlets to be wired quickly and reliably in a single process step. The phase contact (L) is a PCB terminal for connection of maximum power to each outlet. Quick connect or solder terminals are available on request. IDC terminal configuration supports wiring "along" or "cross" to the outlet pin axis. Selection depends on the design of the PDU and the arrangement of the outlets, vertically (along) or horizontally (cross) one behind the other, orienting the wires to the direction of the strip. IDC terminals accept solid insulated wires, sizes 14-10 AWG.
The outlet series are rated to IEC and UL 10/15 A at 250 VAC, Style F, and 16/20A at 250 VAC, Style J. The outlets are compatible with the V-Lock cord retention system. Snap in mounting is designed for panel thicknesses of 1.0 to 3.0 mm, 1.5 and 2.0 mm is standard. Link to 6610-5 and 4710-5 datasheets. Link to App Notes: Light Pipe Saves Valuable Space in Smart PDUs, Light Pipe for Status Indication, Cord-Retention Safeguard for IEC Appliance Couplers. For sales and product information, contact Savannah Lee at (800) 848-2600 or by email at info.sinc@schurter.com
About SCHURTER Inc
The SCHURTER Group is the world's leading Swiss technology company providing components that ensure safe power supply and simplified equipment operation. The company's professional competence, innovative strength, and distinctive corporate culture, propel the SCHURTER Group, together with its customers and partners, into the digital future. The safe&easy brand claim not only refers to the products, but also the company's business philosophy, which strives for sustainable success through innovation, highquality products and service, flexibility, and proximity to customers.
SCHURTER is known globally as an innovator, manufacturer and distributor of fuses, connectors, circuit breakers, switches, and EMC products. SCHURTER products and solutions are developed especially for specific industry segments – medical, data and communication, automotive, avionics & space, energy, and the broader industrial market. SCHURTER considers the quality of its products and services as the key factor to the company's lasting success. Its management and improvement processes are designed and certified according to ISO 9001, ISO 13485, ISO 14001, ISO 45001 and IATF 16949, using the EFQM and Baldrige Excellence Models, as well as the application of Lean Management principles such as Value Stream Planning, Power Innovation, SSO, and Six Sigma.
SCHURTER Inc, Santa Rosa, California is the exclusive North America sales and distribution office for the SCHURTER Group.
Editorial Contact:
Stephanie Elliott
Stephanie.elliott@schurter.com
SCHURTER Inc.
447 Aviation Boulevard
Santa Rosa, CA 95403
Tel +1-707-636-3000
Fax +1-707 -636-3033
www.schurter.com