ELGE Precision Machining, Inc. Adds a New 5-Axis CNC Turning Center Lathe to Increase our CNC Machining Capacities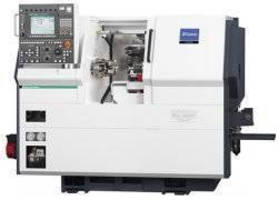 Elge Precision Machining, Inc. in Reading, PA, is excited to announce its new Miyano BNA-42s 5-axis super turning center with live tooling.  We also included an auto loader bar feed system.  This gives us a tremendous increase in capacity to service our existing and new customers.



Miyano has been a pioneer in the development of automatic lathes, continually achieving advances in productivity and precision.  The S-model delivers increased versatility with the provision of a sub-spindle and c axis live tooling.  Multiple tool holders enable the use of many tools for unrivalled flexibility in a bar turning machine with a smaller footprint.  This machine offers control technology for reduced non-cutting time and improved productivity.



About Elge Precision Machining:



Elge Precision Machining has been manufacturing quality products since 1946.  We designed patented the spark wheel for cigarette lighters, ultimately producing millions of spark wheels for Zippo, Ronson Bic lighters.  Since that time, we have expanded our machining capabilities to cover a broad customer base in the electronics, automotive, marine, fastener, construction and Industrial markets.   We stand behind our products and have rigorous quality control standards along with a strong commitment to technical expertise.



We assure on time delivery within specifications. Our production facility maintains a wide range of the latest high-precision bar machines, screw machines and secondary operation equipment, backed up by an experienced staff of machinist's capable of handling a broad range of requests. Our focus on quality extends to the development of more efficient business processes, which ultimately contributes to a greater cost-savings potential for our customers. 



Please contact Rob Pfisterer 800-249-5471, info@elgeprecsion.com, or visit our website www.elgeprecision.com.



More from Agricultural & Farming Products