ECT to Debut New HyperCore Base Material at SEMICON West 2012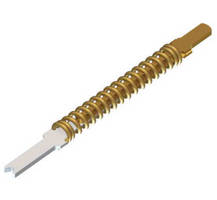 Pomona, Calif. - Everett Charles Technologies' (ECT) announces that it will highlight the new HyperCore in Booth #6557 North at the upcoming SEMICON West conference and exhibition, scheduled to take place July 10-12, 2012 at the Moscone Center in San Francisco, California.

HyperCore is a proprietary base material developed for the highly scalable, fine-pitch ZIP® architecture. The HyperCore material features a high hardness of approximately 600 Knoop, and offers excellent conductivity and minimal oxidation. Additionally, the material is as hard as high carbon steel yet 30 percent more conductive. HyperCore requires no precious metal plating system. This new non-plated homogenous material resists deformation and cleaning wear. HyperCore is available on all ZIP products.

ECT also will highlight its expanded line of semiconductor products including ZIP® and Bantam® contacts. Demonstration of ZIP®'s extreme scalability and broad application solutions will include:

ZIP® Z1 and Z2 - High performance production contacts that service standard and high-speed applications in .3mm, .4mm, .5mm and .8mm pitches.

ZIP® SCRUB(TM) - The ZIP® SCRUB pin features a patented scrub-action. Designs for leaded, pad and BGA applications provide a self cleaning penetrating motion every compression which extends the mean time between cleaning cycles.

ZIP® KELVIN - ECT's ZIP® KELVIN is ideal for voltage sensitive device tests on array or peripheral devices requiring sub-1 ohm resistance measurements typical in RDSON and high-power applications.

ZIP® SUPER SHORT - The SUPER SHORT is designed for 0.5nH low impedance, high frequency testing.

ZIP® Long-Travel - The ZIP® Long-Travel lines enable quick-turn customization of travel and OAL up to 6.7mm. The Z3 line was developed for applications where contacting large devices and strip packages requires a high degree of compliance.

Z8 - The Z8 is designed for burn-in applications. It combines the performance features of standard ZIP® architecture with a burn-in price point. The Z8 has the same form factor as the Z1 and Z2 lines so migration from lab characterization to high volume production is seamless.

The ZIP® patented 2-D design features planar contact surfaces fabricated by a unique manufacturing process, delivering maximum performance and cost advantages. The ZIP® Series is designed to meet today's demanding test requirements and economics.

Everett Charles Technologies is a subsidiary of Dover Corporation (NYSE: DOV) a leading manufacturer of electrical test products and services, including Pogo® test contacts, semiconductor test products, bare-board automatic test systems, and bare and loaded PCB test fixtures. ECT manufacturing, service, and support facilities are ISO registered with locations throughout the United States, Europe, and Asia. The company has been awarded numerous patents and participates actively in developing industry standards. Corporate offices for Everett Charles Technologies are located at 700 E. Harrison Ave., Pomona, California, USA, 91767. Additional information about ECT is available via the Internet at www.ectinfo.com.


More from Mechanical Power Transmission