DMC-12x0 - PC/104 Optima Motion Controllers, 1-8 Axes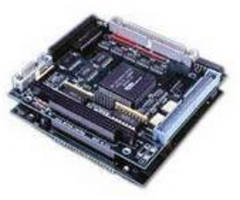 For new applications, Galil recommends the new generation, Accelera series DMC-18x6 PCI controllers.

The DMC-12x0 PC/104 bus motion controller is a member of the Optima Series, Galil's prior-generation, multi-axis motion controllers. Designed to fit in an embedded PC/104 system, the DMC-12x0 controller accommodates 1- through 8-axis formats and allows control of step or servo motors on any combination of axes. Any mode of motion can be programmed including linear and circular interpolation, contouring, electronic gearing and ecam. Like all Galil controllers, programming the DMC-12x0 is simplified with two-letter, intuitive commands and a full set of software tools such as WSDK for servo tuning and analysis.

More from Materials