Dinkle Supplies Custom Interface Module to Compressor OEM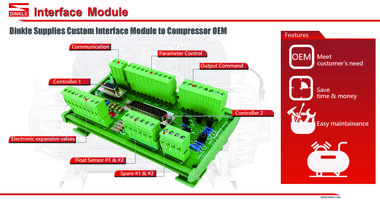 Instead of designing and building an interface module in-house, a compressor OEM turned to Dinkle to save time and money.
STAFFORD, TEXAS (March 22, 2018) – Dinkle International supplies a number of terminal blocks and related components to its customers, such as pluggable terminal blocks, and provides design and build services for custom interface modules.
These printed circuit board (PCB) interface modules provide a means to connect field wiring to internal control and monitoring components. They can also be used to facilitate wiring among internal components.
When an interface module is needed, an original equipment manufacturer (OEM) can design and build it internally, or engage a supplier. Internal design and build often requires an OEM to learn new skills because the OEM is typically expert at producing its product, such as a compressor, but not at designing and building PCB-based assemblies such as an interface module. A U.S.-based compressor manufacturer was faced with this type of make or buy decision, and it turned to Dinkle for assistance.
Dinkle designed and built an interface module to meet the OEM's needs. The module uses several types of terminal blocks mounted on a PCB carrier. Dinkle was able to integrate the required electronic components, and used its existing supply chain to quickly deliver a high-quality and competitive product. The interface module has performed flawlessly since its installation in 2016.
Why Use an Interface Module?
For this application, as with many others, interface modules are used to reduce installation time, and to facilitate maintenance and troubleshooting.
The compressor OEM determined it would take a great deal of time to install each wire connection from the control side to the related action sides without an interface module, and it would be difficult to ensure each connection was tightened properly. The interface module has a 44 pin D-sub connector, and a total of 40 poles of terminal blocks, so many connections are required. The OEM estimated a savings of 50-70% in installation time by making all of these connections using Dinkle's interface module.
From the OEM's maintenance and troubleshooting perspective, because all the terminal blocks used are the pluggable type, the entire PCB can be easily disassembled by unplugging the terminal blocks without loosening the wire connections. This design saves a considerable amount of time if the PCB requires replacement. In addition, there are LED indicators on the PCB to quickly identify a failed connection, speeding troubleshooting.
Dinkle's products have various safety approvals including UL, CUL, CSA, VDE and GB. The material used for manufacturing is compliant with RoHS and REACH environment standards set by EU. For more information, please visit Dinkle online at www.dinkle.com
About Dinkle International
Founded in 1983, Dinkle is the largest terminal block manufacturer in Asia, with headquarters in Taipei and offices in over 40 countries. Since 1995, Dinkle products have been made at their Electrical R&D center and CNAS-certified laboratory in Kunshan, China. Dinkle's products are used in industrial automation applications across many sectors including discrete part manufacturing, machinery, process plants and transportation. All Dinkle factories have received ISO 9001 and ISO 14001 certification.