Automated Guided Vehicle Systems
Dematic Mobile Automation Solutions Exceeding Expectations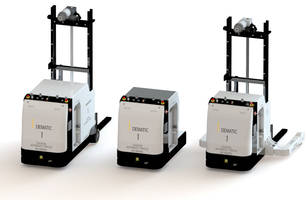 Compact AGVs: Standardized, Easy to Implement, Quick Return on Value
GRAND RAPIDS, MICHIGAN - March 13, 2018 - Dematic, a leading global supplier of integrated automated technology, software and services to optimize the supply chain, continues to see its Compact product line of lower cost automated guided vehicles (AGVs) gain traction in the North American marketplace.
After its initial release a little more than two years, the Compact AGV mobile automation solution has exceeded all expectations. In the first full year of production, orders for Compact AGVs were almost 25% ahead of plan. By year end 2017, almost 50 units had been manufactured and delivered to customers. This amount already has been exceeded in 2018, with additional orders that will increase this even further.
Compact AGVs have been engineered from the ground up to be a smaller, lower cost option to full-size AGVs, with a modular design and "off-the-shelf" manufacturing approach. This translates to a 75% reduction in time from order to delivery compared to traditional AGVs and a much faster ROI for customers.
Manufactured in the Dematic Mobile Automation Center of Excellence in Holland, Michigan, Compact AGVs are available in three functional versions:
Tugger vehicle capable of towing up to 10,000 pounds
Counterbalance vehicle capable of lifting 2,500 pounds
Straddle fork vehicle capable of larger and heavier loads (up to 3,600 pounds) than in a counterbalance format
A fourth functional Compact AGV version will include a platform attachment to allow for a conveyor deck, racking/shelving or robotic arm to be mounted to the back.
"Dematic Compact AGVs are a perfect fit for companies looking for a low cost, yet highly functional AGV product they can implement quickly," said Tom Kaminski, Vice President of Mobile Automation for Dematic. "The cost for Compact AGVs can be half the cost of traditional AGVs, so the ROI is very attractive - it isn't uncommon to see a 40-50% faster ROI."
The Compact AGVs are just one example of the complete line of mobile automation solutions from Dematic. As a division of the KION Group, Dematic offers end-to-end supply chain automation, including high-end warehouse automation, storage, sorting and conveying solutions, mobile automation solutions and automated forklift trucks.
For more information about Dematic mobile automation solutions, visit Dematic.com/agv or contact Cheryl Falk at [email protected] or 262-860-6715.
About Dematic
Dematic is a leading supplier of integrated automated technology, software and services to optimize the supply chain. Dematic employs over 6,000 skilled logistics professionals to serve its customers globally, with engineering centers and manufacturing facilities located around the world. Dematic is one brand under the KION Group of companies and has implemented more than 6,000 integrated systems for a customer base that includes small, medium and large companies doing business in a variety of market sectors.
Headquartered in Grand Rapids, Michigan, Dematic is a member of KION Group, a global leader in industrial trucks, related services and supply chain solutions. Across more than 100 countries worldwide, the KION Group designs, builds and supports logistics solutions that optimize material and information flow within factories, warehouses and distribution centers. The company is the largest manufacturer of industrial trucks in Europe, the second-largest producer of forklifts globally and a leading provider of warehouse automation.