Dallas Industries Delivers Feed Line to Grant Industries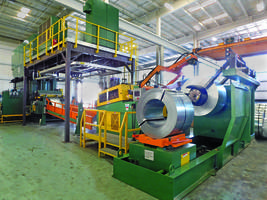 Troy, MI — Dallas Industries (www.dallasindustries.com), a leading manufacturer of coil handling, press feeding equipment and controls for the stamping industry has announced that Grant Industries, Fraser, MI, a stamping and assembly manufacturer has taken delivery on a new Dallas Industries feed line.
The automated conventional coil feed line is rated for materials up to 50,000 lb. x 54 in. wide and is equipped with 6 in. diameter roll feed with servo pilot adjustment. This enables the operator to adjust the pilot release gap and still maintain the ability to adjust roll pressure when running a thin, surface-critical material. The line also incorporates a nine-roll straightener with automated straightener roll position (or AutoSet).
AutoSet allows for some or all of the adjustable points on a feed line such as straightener rolls, edge guides, coil guides and feed passline to be automatically positioned based on job parameters. Profile Select™, another Dallas Industries feature is a unique feed control system that is exclusively available through Dallas Industries. Most servo feed controls use a trapezoidal motion profile that creates quick, jerky motions that can cause slippage, material damageszykula@ksthip.com and added stress to machine components. ProfileSelect on the other hand, uses a sinusoidal (cam motion) profile. This results in a smooth feed motion that utilizes 100% of the press feed window, reducing stress on the material and the feed's mechanical components.
The unit also features a Tail-Out feature to run the feeder in automatic mode while loading reel and a powered straightener material calculator to assist with determining brake roll adjustment.
Grant Industries, located in Fraser, MI, provides protypes and production of stampings and assemblies to a variety of industries.
Dallas Industries' full line of products includes conventional and compact coil feed lines, as well as servo feeds, heavy-duty straighteners and coil handling equipment.
For further editorial information, contact:
Ed Szykula, KST Advertising & Public Relations
szykula@ksthip.com
More from Communication Systems & Equipment