Motion Sensors / Detectors / Transducers
Continental Offers Original Equipment ATE Wheel Speed Sensors to the Aftermarket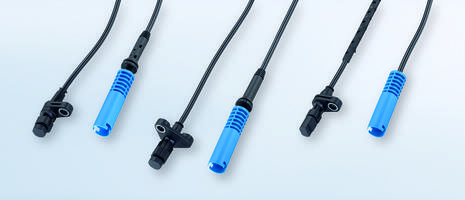 • Genuine OEM part, exact fit for simplified installation
Allentown, PA November 27, 2018 - Continental Commercial Vehicles & Aftermarket has expanded its popular line of ATE brake products to include ATE Wheel Speed Sensors. ATE Wheel Speed Sensors are genuine OE parts and come direct from the manufacturer, Continental. They are produced in the same ISO certified facilities as the sensors supplied to OEMs. ATE is a trademark of the Continental Corporation.
ATE Wheel Speed Sensors provides detection of rotational direction for hill start assist and park assist systems, as well as provide wheel speed inputs to ABS, TCS, and ESC control systems.
Dan Caciolo, Head of Product Management - Engine Management & Fuel Supply, notes, "Because these are OE manufactured parts, service pros can be guaranteed they'll get OE fit, form, and function. ATE Wheel Speed Sensors mean fewer comebacks and happier customers."
Applications for ATE Wheel Speed Sensors include Audi, BMW, Chevrolet, Jaguar, Land Rover, Mercedes-Benz, Mini, Mitsubishi, Opel, Saab, Volkswagen, and Volvo vehicles. There are 123 Wheel Speed Sensors in the ATE program, which covers over 45 million VIO across the United States and Canada.
Continental Commercial Vehicles & Aftermarket is a leading aftermarket supplier of OE-engineered parts for HVAC and engine cooling, door systems, tire pressure monitoring systems, engine management, fuel systems and instrumentation, and brake systems.
For more information, visit: www.usa.vdo.com and www.ate-na.com or contact: salessupport-us@vdo.com.
Continental develops pioneering technologies and services for sustainable and connected mobility of people and their goods. Founded in 1871, the technology company offers safe, efficient, intelligent and affordable solutions for vehicles, machines, traffic and transport. In 2017, Continental generated sales of €44 billion and currently employs more than 244,000 people in 61 countries.
Information management in and beyond the vehicle is at the very heart of the Interior division. The product portfolio for different types of vehicles includes: instrument clusters, multifunctional and head-up displays, control units, access control and tire-information systems, radios, infotainment systems, input devices, control panels, climate control units, software, cockpits as well as services and solutions for telematics and Intelligent Transportation Systems. The Interior division employs more than 43,000 people worldwide and generated sales of €9.3 billion in 2017.
Within the Interior Division the Commercial Vehicles & Aftermarket Business Unit accommodates the specific requirements of the commercial vehicle, special vehicle and aftermarket sector. A global network of sales and service companies ensures proximity to local customers. Covering the product brands Continental, VDO, ATE, Galfer and Barum the Business Unit offers web based managed services, fleet management and tachograph solutions electronic products, systems and services for commercial and special vehicles, a broad selection of products for specialized workshops and spare parts for the Independent Aftermarket and the Original Equipment Services after end of series production of the vehicle manufacturer.
Contact for journalists:
Anouré V. Fenstermaker
Marketing Communications Manager
Continental
Interior / Commercial Vehicles & Aftermarket
6755 Snowdrift Road, Allentown, PA 18106
Tel: (484) 705-1909, Fax: (610) 289-1766
Email: anoure.fenstermaker@continental-corporation.com
More from Computer Hardware & Peripherals