CGW Offers Surface Conditioning Abrasives Line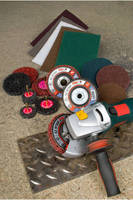 NILES, ILL - August 2009 - CGW-Camel Grinding Wheels has a full line of surface conditioning abrasives designed to quickly prepare work pieces for finishing.

CGW's surface conditioning abrasives are made from nonwoven materials impregnated with abrasives for easy removal of materials such as sealants, paints and rust. Consisting of more than 100 products, the surface conditioning line contains EZ strip wheels, hook and loop discs, hand pads, interleaf wheels, surface conditioning flap discs and interleaf flap discs.

"Surface conditioning products are a necessity in the metal fabrication process and creating a uniform work surface allows users to complete projects quickly and professionally," said Joe O'Mera, president, CGW-Camel Grinding Wheels.

CGW EZ strip wheels can be used to remove a variety of materials including rust, paint and mill scale. EZ strip wheels are available in 2- to 8-inch diameters and in an assortment of attachment styles including roll-on, ¼-inch spindle and ½-inch arbor hole. The hook and loop discs are designed for quick changes, but have strong attachment capacities.

CGW hand pads are available in premium and economy grades to cover a wide range of applications. The interleaf wheels and flap discs contain alternating flaps of non-woven and coated abrasive materials for uniform surface preparation and finishes.

CGW-Camel Grinding Wheels is one of the world's leading suppliers of grinding wheels since 1956. Its 90,000-square-foot U.S. facility serves as a centralized warehouse with manufacturing capabilities and includes customer service, sales and marketing departments.

For more information on the company and the new CGW surface conditioning abrasives, contact:
CGW-Camel Grinding Wheels,
7525 North Oak Park Avenue,
Niles, IL 60714.
Phone: 800-447-4248.
Fax: 800-447-3731.
Web site: www.cgwheels.com.

Corporate Contact:
Debbie Hilander
800.447.4248

Agency Contact:
Rosemarie Ascherl
440.234.1812 x126

Please send inquiries to:

Joe O'Mera, CGW-Camel Grinding Wheels, USA, 7525 North Oak Park Ave., Niles, IL 60714.

More from Agricultural & Farming Products