Centrifuge Oil Filtration for John Deere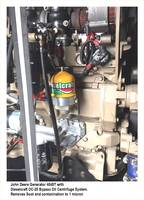 Dieselcraft has developed the OC-20/JD Series Oil Centrifuge for the John Deere 4045 diesel gensets.
The OC-20/JD Centrifuge removes 99% dirt and wear particles from the oil flow. Contaminant particles as low as 1 micron are removed by the OC-20, eliminating the wear and tear on close tolerance metal parts.
The OC-20/JD Centrifuge removes dirt and wear particles from the oil flow all together. Where filters take solids and hold them from circulating further but plug, reduce oil flow and eventually reach the point of not working.
No special pump or motor is necessary since engine oil pressure spins the centrifuge rotor at a rate up to 6,000 rpm's generating a centrifugal force which is 2,000 times greater than gravity. That force separates the soot and solid contaminates from the main oil supply. The solids are stuck to the inside of the rotor, which is easily cleaned….no filter to dispose of.
The OC-20/JD is a complete plug and play package that includes the CentriMount direct mounting plate which eliminates the return hose. The OC- 20?JD and larger centrifuges are sized to accommodate most marine applications including large gensets and main engines. Minimum requirements are any engine, with a sump of at least 5 quarts (no maximum).
A dealer program is offered.
For further product information see the Dieselcraft web page at: http://www.dieselcraft.com or
Contact
Dieselcraft Fluid Engineering West Coast
Auburn, CA 95604
530 613 2150
East Coast Office
Chatham, NJ 07028
772.215.8087
More from Electrical Equipment & Systems