Boston Industrial Solutions' Natron™ STC 370HP Gets GLP - Skin Irritation Certification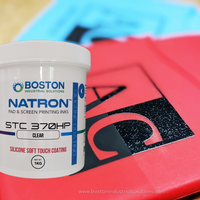 Boston Industrial Solutions, Inc. Natron™ STC 370HP coating for silicone rubber gets the GLP - Skin Irritation certification both for short and prolonged term use. This certification is in addition to the recent in-vitro biological reactivity testing USP Cytotoxicity certification.
The Natron STC 370HP coating is a silky-smooth medical grade silicone coating that achieves an incredibly durable surface finish to any silicone rubber device. This coating is superior to the competing options in the market today. Boston Industrial Solutions, Inc., formulated this coating for silicone medical devices and skin contact applications.
The STC 370 HP soft-touch silicone coating was evaluated for primary skin irritation test based on the requirement of ISO 10993-10, Biological evaluation of medical devices - part 10. The STC 370HP coated samples were graded for erythema and edema at 1, 24, 48, and 72hours. The results were outstanding with a primary irritation index calculated to be 0.0
This soft touch silicone coating is formulated with sustainability, durability, and no harmful chemicals in mind. This coating is permanent once applied to silicone.
Like all Natron™ coatings and printing inks, the STC 370HP has undergone rigorous testing to ensure safety and perfect bonding onto silicone rubber substrates.
Key features for the STC 370HP soft touch coatings are:
Zero coefficient of friction,
Durable silky-smooth finish,
Easy to use with soft and hard silicone rubber products,
Dust proofs coated silicone products, etc.
This low coefficient of friction silicone coating ink is a great addition for silicone molding manufacturers, prosthetics industry (orthopaedics), consumer electronic industry, aerospace, medical device manufacturers, etc. All these industries worldwide can now take advantage of the benefits offered by the Natron™ 370HP Coating economic value, functionality, and durability.
To learn about the Natron STC 370HP Coating, please click here.
https://bostonindustrialsolutions.com/silicone-soft-touch-coating/
Boston Industrial Solutions, Inc. manufactures and provides advanced printing inks, pad printing equipment, supplies, and solutions to industrial, medical, toys, and promotional companies worldwide. Boston Industrial Solutions, Inc. is the global leader of silicone inks worldwide. For more company news and new products, visit www.bostonindustrialsolutions.com/news/
Contact:
Boston Industrial Solutions, Inc.
21 Cummings Park Drive, #272
Woburn, MA. 01801, USA