Atlas® Tool Additions Offer Broadest Range of Solutions for Installing Blind Threaded Inserts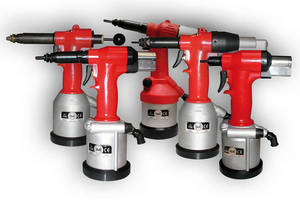 The line of Atlas® tools for installing blind threaded inserts has been newly expanded with the introduction of a complete range of diverse models offering ideal capabilities to meet particular operational and application requirements. Atlas tools are now available in spin-spin, pull-to-pressure, pull-to-stroke, or combination versions to install steel, brass, aluminum, or stainless steel blind threaded inserts permanently and reliably.

The expanded Atlas tool line includes heavy-duty models featuring 7,000 lbs. of pull force to install even the largest, thick wall, stainless inserts; small and lightweight versions; versions dedicated to install specific types of inserts in various thread sizes; and hand tools suitable for field installations, repair work, or prototype applications. Several feature the pull-to-pressure mode, which helps accelerate production rates and prevent over-installing or double installing to ensure the integrity of fastener threads. The line additionally includes a hexcutter tool uniquely engineered to convert round holes to hexagonal holes where full or half-hex bodied inserts may be necessary.

The tools operate on 90 PSI air pressure (with a battery-powered alternative for applications where air power is unavailable). All feature a hardened socket head cap screw mandrel, whose easy replacement can help minimize cost of operation.
Detailed profiles, specifications, and capabilities for all Atlas tools are provided in the Atlas Catalog, which has been updated with a "Tool Selector Guide" to assist in determining the correct tool for an application. The Catalog is available for downloading at www.pemnet.com

All Atlas products are manufactured by PennEngineering®, founded in 1942 and this year celebrating 70 years of excellence in fastening technology.


More from Agricultural & Farming Products