AS K-2016 Nears, Special "50k" Maguire® Blender Travels to Customers Worldwide to Celebrate Sale of 50,000th Blender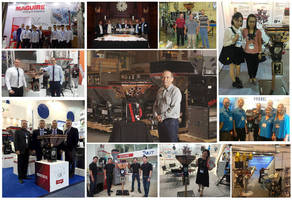 Celebration Also Includes the Chance to Win One of Five $500 Cash Prizes, Whose First Winner Is an Extrusion Operation of Amesbury Truth, a Leading North American Producer of Window and Door Components



ASTON, PENNSYLVANIA, U.S.A. - A year-long celebration in anticipation of the shipment of the 50,000th Maguire® weigh scale blender will arrive at K 2016, the biggest event in the plastics industry (Hall 10, Stand A26), with an additional ten appearances at events globally planned before the year is out.



The celebration has included a global tour of a special customized 50K blender from Mexico, Taiwan, and China to Europe, the Middle East, and the United States, thus far reaching 30 customer sites in 16 countries on five continents. In addition, Maguire has been running a digital campaign on Twitter and LinkedIn to thank customers by offering them a chance to win one of five $500 prizes.



At K 2016, Maguire will have a series of celebrations on their stand as well as a special plinth and photo booth area to encourage people to join in on the celebrations. "All of us at Maguire look forward to welcoming visitors to our stand and are excited to celebrate with everyone who has been a part of the 50K world tour journey," said Frank Kavanagh, vice president of sales. "The 50K unit is an ambassador celebrating what has been achieved in raw materials over the years."



The 50,000th sale is a landmark for the industry as well as for Maguire, according to Mr. Kavanagh. "When Maguire's president Steve Maguire developed the gravimetric batch blender in 1989, it was the first affordable and easy to operate system for precisely controlling the composition of a raw material blend. Today the Maguire blender is the world's most widely used gravimetric blender and has been installed in every type of plastics manufacturing operation, from compounding to extrusion to molding."



Celebratory Events Anticipate the Sale of the 50,000th Maguire® Blender



In the 50K world tour, Maguire partners have taken the special 50K version of the company's widely used MicroBlender™, the smallest model in the Maguire blender range, to celebratory events with customers. A video showing some of these events is posted at https://youtu.be/6cGMObJ7WIA. In addition, a Twitter feed following the progress of Maguire's 50K activities is posted at #50kblenders and #MeAndMyMaguire on @MaguireProducts as well as on LinkedIn Maguire-Products.



In Maguire's 50K digital program, which continues throughout 2016, five customer winners will be announced in a series of random drawings. Customers apply by sending a photo of their team with a Maguire blender via email or Maguire's Twitter and LinkedIn accounts. Each winner receives $500 and is entertained by a Maguire representative at an event of their choice.



The first winner was the Amesbury, Massachusetts extrusion operation of Amesbury Truth, a leading North American manufacturer of window and door components. The company chose to use its $500 award to hold an employee luncheon.



Maguire equipment installed at the Amesbury plant includes 50 blenders, six MLS™ mini-central loading systems, and two VBD 1000 vacuum dryers, noted Amesbury Truth process engineer Dan Cook, who cited the service provided by Maguire and its local representative Mark Hamilton of Hamilton Plastics Equipment, LLC. "We really value the support we get from Maguire. I can call them up, and they'll get right back to me. It's good to have people like Mark to count on."



Also as part of the celebrations, Maguire held a special international seminar at their world headquarters in Aston, PA, U.S.A. for all international partners as a thank-you for their support over the years. 



Precision Is One Key to Worldwide Adoption of the Maguire® Blender



A gravimetric batch blender sequentially dispenses each batch ingredient in its target proportion into a weigh chamber; then, by monitoring each gain in weight of a batch, the blender control makes adjustments to subsequent batches to maintain accuracy and control raw material consumption. The Maguire system holds batch accuracy to within +/- 0.1%, according to Frank Kavanagh.



"The precision of the Maguire blender has generated substantial savings in material costs and increases in product quality throughout the industry," said Mr. Kavanagh. "In combination with control systems and software developed by Maguire, the blender has also made advanced capabilities readily accessible to a wide range of processors, including lot-to-lot accountability and documentation, extrusion yield control, and factory automation."



MAGUIRE PRODUCTS, INC., headquartered in Aston, Pennsylvania, U.S.A., is the world's largest supplier of gravimetric blenders, liquid color pumps, and vacuum dryers and also manufactures loading systems, auger feeders, granulators and related equipment and software. Its customers include injection, blow, and rotational molders, extrusion processors, and compounders. Founded in 1977, Maguire operates six manufacturing facilities in Aston. The company maintains a network of distributors in the Americas and overseas and has three sales and service subsidiaries that stock, sell, and service auxiliary equipment systems from Maguire and its affiliate, Novatec, Inc.: Maguire Canada, Maguire Europe, Maguire Asia, and Maguire IMEA. Visit www.maguire.com



Maguire Products, Inc., 11 Crozerville Road, Aston, PA 19014 USA. Tel: 1-610-459-4300. info@maguire.com. Maguire Canada, 299 Basaltic Road, Unit 1, Vaughan, Ontario L4K 4W8. Tel: 905-879-1100. info@maguirecanada.com. Maguire Europe, Vanguard, Tame Park, Tamworth, Staffordshire B77 5DY United Kingdom. Tel: 44-1827-265-850. info@maguire-europe.com. Maguire Europe (Italy), Maguire Italia SRL, Padova, Italy. Tel: 39-049-970-5429. Italia@maguire-europe.com. Maguire Asia, Maguire Products Asia Pte Ltd., 15 Changi North Street 1, #01-15, I-Lofts, Singapore 498765. Tel: 65-6848-7117. magasia@maguire-products.com.sg. Maguire Asia (China), Maguire Products Asia Co. Ltd., 7C-02 Majesty Building, 138 Pu Dong Avenue, Shanghai 200120 China. Tel: 86-21-588-23410. mpa@maguirechina.com. Maguire IMEA FZCO (Middle East, India, Africa), LOB180706-6, Floor 7, JAFZA View 18, Jebel Ali Downtown, P.O. Box 17493, Dubai, UAE. Tel: 971-4-881-6700. info@maguire-imea.com.

More from Mechanical Components and Assemblies