AdvantaPure's Hose Track(TM) Equipment Tracking & Analysis System is Now 21 CFR Part 11 Validated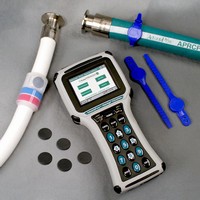 Third Party Validation Assures Users

Southampton, PA - The AdvantaPure division of NewAge Industries, Inc., is pleased to announce that its Hose Track Process Equipment Identification and Lifecycle Analysis System has been validated for 21 CFR Part 11. The third party validation, conducted by VALSPEC of Royersford, PA, affirms the product's compliance with Title 21 of the Code of Federal Regulations, Part 11, which relates to electronic records and signatures.

"Obtaining third party validation was of great importance," says John Stover, Director of Sales. "Customers need outside assurances that the products they're purchasing will meet both their needs and government-mandated requirements. Hose Track does this."

Hose Track, developed for hose assemblies used in pharmaceutical, food and beverage, biomedical, cosmetic, and other high-purity applications, also works with other process equipment, such as pumps, bio-bags, filters, diaphragm valves, UV lamps, and tanks and vessels. Hose Track uses RFID technology and software to identify parts and monitor on-going, wear-related events, including cleaning cycles, the number of batches processed, and other user-defined occurrences.

Hose Track provides a solution for the critical job of part maintenance and replacement. It increases safety and reduces risk by monitoring equipment and is a key tool used in projecting service dates before parts can fail, compromise product integrity, and waste time and labor. It replaces old-style log books, which can be prone to transposed numbers, incorrect dates, illegible handwriting, misread data, and misfiled documents. Log books also limit the availability of data, as they are kept in one place and generally do not follow the equipment. With Hose Track(TM) information can be viewed on any networked computer.

For more information on Hose Track, contact the team at AdvantaPure, 145 James Way, Southampton, PA 18966; phone 888-755-4370 or 215-526-2151; fax 888-258-4293 or 215-526-2167; e-mail: sales@advantapure.com; product-specific web site: http://www.advantapure.com/hosetrack_01.htm.

About AdvantaPure and NewAge® Industries
AdvantaPure, a division of NewAge Industries, specializes in ultra-clean products for the pharmaceutical, biomedical, food, beverage, and cosmetic industries. All products are manufactured, stored, and shipped using the cleanest methods possible to ensure unsurpassed product purity.

In business since 1954, NewAge Industries is a manufacturer and fabricator of thermoplastic and thermoset tubing and hose, and a private-brand master distributor of fittings and clamps. The company offers one of the broadest product lines of tubing, hose, and fittings in the U.S., and its custom extrusion and fabrication services are unrivaled. NewAge Industries maintains a large inventory and prides itself on same-day shipment of 98% of orders for its core product lines.

For questions regarding this press release, contact Ann Phy, Marketing Coordinator, by phone at 215-526-2145; fax 215-526-2191; e-mail aphy@advantapure.com. This contact information is NOT for publication in print or on-line.

Hose Track(TM), NewAge®, and AdvantaPure® are trademarks of NewAge® Industries, Inc. o Purity in Fluid Flow Systemssm is a service mark of NewAge® Industries, Inc.

More from Services