Advanced Zierick Components Chosen Again for Leading-Edge Technology Demonstration at SMT Hybrid Packaging Expo 2009 in Nuremburg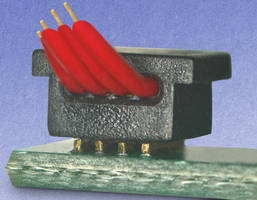 Two technologically advanced components assuring fast, reliable, and economical surface mount connections to printed circuit boards - both designed and manufactured by Zierick Manufacturing Corporation, Mt. Kisco, NY - have been selected for inclusion in the 2009 VDI/VDE-IT demonstration production line at the SMT Hybrid Packaging Expo, Nuremburg, Germany, May 5-7. This is the second consecutive year Zierick products have been chosen for this honor.

The Expo's 2008 version of the automated printed circuit board demonstration and production system also included Zierick components and was seen by more than 23,000 visitors from 50 countries. The 2008 PCB demonstrated the future of automotive electronic circuit board fabrication - integrating leading-edge materials, components, and packaging technologies selected from a variety of global suppliers and making them perform right on the show floor.

Presented jointly by "VDI/VDE Innovation + Technik GmbH" and partners from industry and research, this production line is a perennial show highlight. For 2009, it carries the motto, "Innovation in PCB Manufacturing Technology - the Foundation for Complex Electronic Systems." The board will feature wireless - sensor - nodal related technologies.

This year, demonstration line designers and engineers will use the Zierick IPC-4-45 Fine Wire Connector to bring battery power to the board and the Zierick Part Number 1295 Surface Mount Insulation Piercing Crimp Terminal to connect the board to various LED readout devices.

According to Janos Legrady, Vice-President of Research and Development for the company, "Zierick is very pleased that the production line designers and engineers recognize our advanced wire termination techniques as solutions to interconnection problems. The fact that they require the smallest footprint and are the least expensive method of wire termination is significant in today's market."

The IPC-4-45 (http://zierick.com/pages/sm_finewire.php) is Zierick's insulation piercing connector which offers a cost-efficient, reliable solution for stranded or tinsel wire terminations. Multiple wires can be terminated simultaneously without being stripped first. This connector also features a unique design of four wire housing holes and four individual piercing blades that can accommodate stranded or tinsel wire. With an advanced design that eliminates the need to solder wires to the PCB, the IPC-4-45 saves assembly cost and provides a highly durable wire connection.

For the fast, secure, hands-free connection of the show board's circuitry to its LEDs, the designers chose the Zierick Part Number 1295 Surface Mount Insulation Piercing Crimp Terminal. This is the little brother to the recent winner of the 2009 PMA Higgins-Caditz Award, Zierick Part Number 1286 (both family members can be seen at zierick.com/pages/sm_ipct.php). With a small footprint, this is the most economical way to terminate a wire to a printed circuit board. Among its other features, the 1295 requires no separate strain relief and lends itself to high speed automated operations.

About Zierick Manufacturing Corporation

Zierick Manufacturing Corp. is the leading source of solutions to complex interconnection requirements and problems. From standard products to custom-made goods, Zierick has invented and produced technologies which have become the industry standard and which will continue to shape the industry in the future. Zierick also provides its customers with assembly equipment, interconnection hardware, and taped terminals. For all of its 90 years in business, Zierick has maintained custom stamping capabilities, setting the standard in both design leadership and quality tooling and stamping.

For more information on all Zierick products, contact

Sharon Harvey,

Marketing Manager,

Zierick Manufacturing Corp.,

131 Radio Circle,

Mount Kisco,

N. Y., 10549,

telephone 800-882-8020 ext. 254,

email sharvey@zierick.com.

More from Agricultural & Farming Products