ABS Approval for Hayward CPVC Product Lines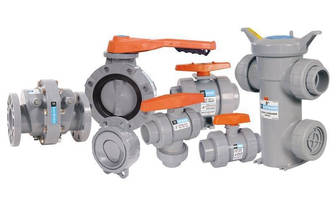 Hayward Flow Control is pleased to announce that it has attained American Bureau of Shipping (ABS) product approvals for the majority of its industry leading range of CPVC thermoplastic flow control product lines.



The following product lines from Hayward have been approved for Marine Offshore Applications for Non-Essential Systems, including Fresh Water, Seawater, Potable Water, Grey Water, Black Water, Brine, Hot Cold Water Distribution, Deck Wash Systems, Cooling & Chilled Water Systems, Scuppers, Drains, Sanitary, etc. in Services requiring no Fire Endurance Testing or Electrical Conductivity as per 4-6-3/Table 1 of the Steel Vessels Rules.



- BFA Series Bulkhead Fittings

- BFAS Series Bulkhead Fittings

- BY Series Butterfly Valves

- BYV Series Butterfly Valves

- FLV Series (GFPP) Filter Vessels

- SB Series Basket Strainers

- SW Series Swing Check Valves

- TB Series True Union Ball Valves

- TC Series True Union Ball Check Valves

- TW Series Three Way Ball Valves

- WCV Series Wafer Check Valves

- YS Series Y-Strainers



Typical applications or installations for CPVC flow control products include but are not limited to water & wastewater treatment, chemical processing, mineral processing, maritime, metal plating / surface finishing, paper & pulp, semiconductor, power gen and commercial plumbing.



Hayward Flow Control, a division of Hayward Industries, is a leading manufacturer of industrial thermoplastic valves, actuation and controls, instrumentation, filters, strainers, corrosion resistant pumps, bulkhead fittings and tank accessories and for use in water and wastewater treatment, chemical processing & transfer, chemical feed, aquatic/animal life support systems and general processing systems. Hayward's thermoplastic flow control products can accommodate aggressive and corrosive environments, delicate ecosystems or the strictest chemical balances to keep water and life working together. Hayward Flow Control is an ISO 9001:2008 Certified manufacturer.



For more information, contact Hayward Flow Control at 1-888-429-4635 or by e-mail at hflow@hayward.com. Visit us also at www.haywardflowcontrol.com.

More from Materials