A Look Behind the Surface at SCHURTER's New CHS - Capacitive Hidden Switch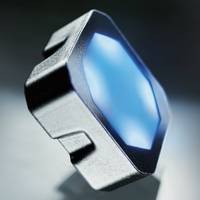 Santa Rosa, California, October 27, 2021 – SCHURTER is pleased to introduce its new Capacitive Hidden Switch, series CHS, intended for use behind non-conductive surfaces. The new series expands on the potential applications for Human Interface Devices (HID) by enabling interface designers more flexibility in custom panel design.
Consumers have become accustomed to the touch of a surface to carry out software commands that increasingly become part of our technology directed lives. These devices often use varying forms of capacitive touchpoints to carry out the desired command. The CHS is a stand-alone capacitive switch designed to be used as a single key or in arrays behind non-conductive surfaces.
The standard CHS is designed to mount behind a glass surface up to 2mm in thickness. Simply remove the protective cover and adhere the switch. The switch is programmed so that it does not false trigger in the event of contact from spray or running liquids, or minor wiping. Activation is achieved by a precise touch of the switch surface. The sensitivity of the CHS can be adjusted to specific application requirements, which also applies to the thickness of the material behind which the switch is bonded. This means that other non-conductive overlays such as plexiglass, plastic, porcelain, ceramic, marble, granite and wood can be used as surface overlays, opening the door to a plethora of new device interface possibilities in areas such as architectural design, professional/gourmet kitchen and premier batch appliances, vending machines, ticketing and other self-service kiosks, as well as the increasing trend for such panels in industrial applications. What's more is cleanable surfaces are especially important today in hygienic applications. The hidden CHS has no mounting holes or switch openings that would allow for ingress of liquids and dirt, or microbes.
Offered in three variations, CHS1 with the PCB circuit only, CHS2 with housing and RGB backlit illumination, CHS3 with potted housing and RGB backlit illumination. All three are easily installed to the back of the surface with 3M Adhesive. Dimensions are 30 x 30mm with minimal mounting depth. Integrated connectors, flexible wires or separate connector options can be specified in the part configuration. With no moving parts to wear over time, the electronic technology has a rated lifetime of > 100 million actuations. Operating temperature range is -40°C to +85°C. Version with latching action on request.
Pricing for the CHS starts at $19.50 each per 100 pieces. Packaging is 10 pieces per box. Link to datasheet CHS. For sales and product information, contact Cora Umlauf at (800) 848-2600 or by email at info.sinc@schurter.com.
About SCHURTER Inc.
The SCHURTER Group is the world's leading Swiss technology company providing components and complex solutions that ensure safe power supply and simplified equipment operation. The company's professional competence, financial independence, innovative strength and distinctive corporate culture, propel the SCHURTER Group, together with its customers and partners, into the digital future. The safe&easy brand claim not only refers to the products, but also the company's business philosophy, which strives for sustainable success through innovation, high-quality products and service, flexibility and proximity to customers.
SCHURTER is known globally as an innovator, manufacturer and distributor of fuses, connectors, circuit breakers, switches, EMC products, and input systems. Touch screens and touch panels, capacitive sensor keypads, membrane keypads and housing systems are developed in close cooperation with its customers. Within its business unit Solutions, SCHURTER combines all competencies and puts them at the customer's disposal. SCHURTER products and solutions are developed especially for specific industry segments – medical, data and communication, automotive, avionics & space, energy and the broader industrial market. SCHURTER considers the quality of its products and services as the key factor to the company's lasting success. Its management and improvement processes are designed and certified according to ISO 9001, ISO 13485, ISO 14001, ISO 45001 and IATF 16949, using the EFQM and Baldrige Excellence Models, as well as the application of Lean Management principles such as Value Stream Planning, Power Innovation, SSO, and Six Sigma.
SCHURTER Inc., Santa Rosa, California is the exclusive North America sales and distribution office for the SCHURTER Group.
More from Electrical Equipment & Systems