90-Degree Silent Elbow Enables Plastics Processor to Automate Trim Removal Despite Tight Space Constraints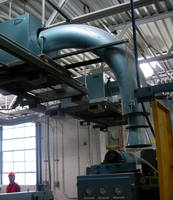 Space-Saving Design Permits Upgrade From Manual Trim Handling

Newark, DE: A clever 90-degree radius elbow engineered as a sound attenuation device from pneumatic conveying system manufacturer Precision AirConvey, Newark, Del. (www.precisionairconvey.com), has enabled the company to design an automated trim removal system that meets required OSHA sound pressure levels and fits within a tight footprint without requiring the movement of any processing machinery or equipment.

Installed in a film and sheet line at a major plastics processor producing polystyrene packaging film, the PAC Acoustical 90-degree elbow with its compact profile and sound attenuation capabilities permitted the use of the relatively short infeeds needed to accommodate the position of the slitter, where the material is captured. By providing sound attenuation in close quarters, the curved silent elbow also allowed for the placement of advanced inline granulators above the material stream that not only cut the edge trim but also reduce it to a pre-determined size. In tandem with a sound attenuation enclosure around the inline cutter, the silent PAC elbow softened the noise from the cutter's continuous, high-RPM operation to attain safe decibel levels that would otherwise be unattainable with this type of automated system.

By upgrading to an automated trim system, the processor has reduced dust concerns, eliminated manual waste handling, opened floor space and allowed staffers to be assigned to other tasks. The PAC Acoustical 90 may be custom engineered to suit nearly any installation or retrofit on existing automated trim, scrap and waste systems installed by PAC or by other manufacturers.

For technical information and sales inquiries, contact Tracey Southerland, Precision AirConvey, 210 Executive Drive #6, Pencader Corporate Center, Newark, DE 19702; 302.999.8000; Fax 302.266.7559; www.precisionairconvey.com.
get-facts@airconvey.com.

More from Optics & Photonics