Technology Dynamics, Inc.
100 School St.
Bergenfield, NJ 07621
All single output power supplies have universal input and can operate at full ratings from -30 to +70°C with derating, except 4,000 W package, which requires 3-phase input. Packages include TCP 600P, TCP 800P, TCP 1200P, NTDM2K, and NTDM4K, which provide 600 W, 800 P, and 1,200 PW, 2,000 W, and 4,000 W respectively. TCP 600P, 800P, and 1200P measure 2.6 x 5.25 x 11.5 in.
Read More »
Single-output, 1U, switch-mode power supplies are available with universal input, pfc standard, or 24 or 48 Vdc input. DC input models provide 5, 12, 24, and 48 Vdc output in 1.65 x 5 x 9 in. case size, which is 8 W/in.Â-³. Units are available with standard terminations or hot swap connectors. Measuring 1.65 x 5 x 11 in., AC universal input units are also available in standard or hot swap...
Read More »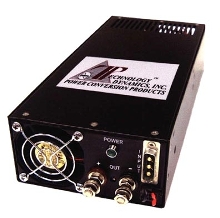 TCPDC Series 600 watt converters have input voltages of 22 to 32 and 42 to 56 Vdc, and outputs of 5, 12, 24, and 48 V up to 600 W. Units are over load, over voltage, and over temperature protected. They include remote turn-on/turn-off and DC-operated ball bearing fan. Operating temperature range is 0 to 55 deg C. Hot swap/rack mount options are available. Applications include telecommunications,...
Read More »