2031 Main St.
Irvine, CA 92614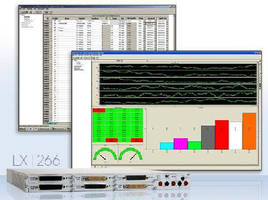 Combined with EX1200 switch/measure and control platform, DAC Express v3.5 Set Up and Run software can be used to satisfy range of data acquisition requirements. It allows engineers to monitor and record temperature, voltage, current, resistance, frequency, and period measurements without any programming required. Along with flexible alarm condition support, turnkey solution lets users construct...
Read More »
Measuring voltage and temperature with accuracy of 0.2°C, EX1000A-TC utilizes LXI Class A technology to enable distributed measurements and synchronization of multiple instruments. Cold junction compensation techniques provide stable reference junction, minimizing temperature errors and allowing connection to any thermocouple type. Unit also provides signal conditioning and can convert raw...
Read More »

Featuring LXI Class A technology, modular EX1200 switch/measure and control subsystem can measure up to 576 channels of voltage or temperature in single rack U mainframe. Plug-in modules provide DC-RF switching, isolated analog outputs, digital I/O, and edge detection, while embedded web interface offers virtual monitoring and control of all switches and instruments. Suitable applcations include...
Read More »