Coval Vacuum Technology Inc.
901 Jones Franklin Road
Suite 100
Raleigh, NC 27606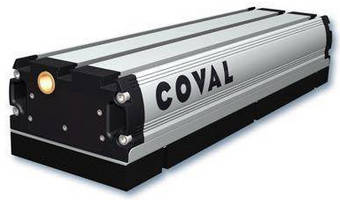 CVG series combines multi-stage vacuum generator, integrated vacuum check-valves, vacuum gauge, and foam gripper mat into one aluminum housing that comes in 4 lengths from 400-1,200 mm. Multi-stage generator comes in 4 interchangeable sizes, making it possible for user to configure vacuum gripper to meet porosity and surface quality requirements of products to be gripped. Due to integral...
Read More »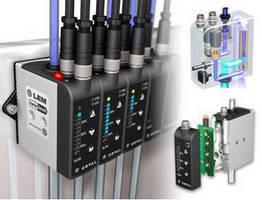 Integrating pressure regulator, valves, and silencer into all-in-one plug-and-play format, LEM Series provides silent operation and clog-free performance. Units are available in 4 configurations with or without vacuum monitoring system and blow-off functions. Mounted from side or front, modules offer 2 vacuum levels of 60% or 90% and 3 nozzle diameters of 1, 1.2, and 1.4 mm. Display screen and...
Read More »