10285 Wayne Ave.
Cincinnati, OH 45215
Hollaender recently supplied almost 1,000 linear feet of aluminum railing with infill panels for the roof of the Astor Court apartments at 89th Street and Broadway in Manhattan. This building, constructed in 1916, still had the original two-line handrail on the outside perimeter of the roof. With an increasing number of people gaining access to the roof, New York City's building code dictated the...
Read More »
Bravura Architecture, located in Louisville, Kentucky, wanted a design for the lobby of the refurbished Mercantile Lofts condominium complex in Louisville that reflected the open concept of the overall project. They saw Speed-Rail® as the ideal framing system for the mailbox center and other sections of the entrance lobby. While these sections of the lobby used Speed-Rail with wood infill...
Read More »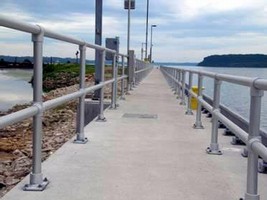 Hollaender® is in the process of delivering 5,213 linear ft. of Speed-Rail® handrail to Lock 11, located on the Mississippi River in Dubuque, Iowa. This railing is used along the lockwall and guidewall as part of a project to upgrade this 50 year old lock. The US Army Corps of Engineers, St. Paul District, which is responsible for this section of the Mississippi, has specified and used...
Read More »