Product News: Controls & Controllers
Universal Motion Controller/Driver offers 10 KHz DAQ rates.
Press Release Summary: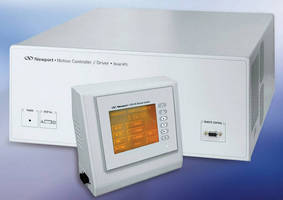 October 9, 2012 - Available in 2-, 4-, 6- and 8-axis configurations, XPS-Qx series is based on QNX RTOS, offers intuitive Web interface, and comes with firmware and dual-core processor. Integrated solution, providing high-speed communication via 10/100 Base-T Ethernet, accommodates applications from simple motion sequences to complex synchronization that require precision control. I/O options consist of 4 user-definable analog inputs, 4 user-definable analog outputs, and 30 TTL inputs and outputs.
Original Press Release
Newport Introduces XPS-Qx Series of High-Performance Universal Motion Controller/Drivers
Press release date: October 4, 2012
Irvine, CA – Newport Corporation, a worldwide leader in laser and photonic solutions that Make, Manage and Measure Light®, introduces the ultra high performance universal motion controller/driver, the XPS-Qx.  The new, easy to use controller series is available in 2-, 4-, 6- and 8-axis configurations and comes with new firmware and dual core processor.

According to Beda Espinoza, Sr. Manager for Newport's Motion Products, "The powerful new XPS-Qx version is based on the QNX RTOS, a robust and proven operating system platform.  The XPS-Qx will replace the XPS-Cx controllers to offer higher performance, better stability, and a faster boot cycle.  The intuitive web interface remains unchanged, along with the feature-rich firmware to which XPS-Cx users have grown accustomed."

The integrated motion controller/driver offers high speed communication through 10/100 Base-T Ethernet, provides superior trajectory accuracy, and powerful programming capabilities. From simple motion sequences to complex synchronization, the XPS-Qx is ideal for demanding applications that require precision control.  Multiple I/O capabilities consist of 4 user-definable analog inputs, 4 user-definable analog outputs, and 30 TTL inputs and outputs. Other features include high-speed-data acquisition at up to 10 KHz rate and event triggering with 50ns latency.

Proprietary universal driver modules allow the XPS to drive up to 8 axes of any Newport actuator, linear, rotary, or nanopositioning stage. Driver cards are purchased separately and are inserted into the XPS-Qx to drive a variety of motors, including stepper, DC brush, rotary or linear DC brushless, voice coil, or piezoelectric.  The XPS-Qx is compatible with Newport's NSTRUCT™ instrument manager software, and with the Experimental Physics and Industrial Control System (EPICS).

For more information about Newport's new XPS-Qx Universal High-Performance Motion Controller/Driver, please visit: http://www.newport.com/XPS-Qx.

About Newport Corporation

Newport Corporation is a leading global supplier of advanced-technology products and systems to customers in the scientific research, microelectronics manufacturing, aerospace and defense/security, life and health sciences and precision industrial manufacturing markets.  Newport's innovative solutions leverage its expertise in high-power semiconductor, solid-state and ultrafast lasers, photonics instrumentation, sub-micron positioning systems, vibration isolation, optical subsystems and precision automation to enhance the capabilities and productivity of its customers' manufacturing, engineering and research applications.  Newport is part of the Standard Poor's SmallCap 600 Index and the Russell 2000 Index.

Company Contacts:

Kim Abair
Director, Global Marketing
Tel: 800-222-6440 / +1 949-863-3144
E-mail: kim.abair@newport.com

Beda Espinoza
Sr. Manager, Motion Products
Tel: 949-253-1247
E-mail: beda.espinoza@newport.com

Submitted by Media Contact:  Marlene Moore
Marlene D. Moore
Advertising • Marketing • Public Relations – for Advanced Technologies
818-708-1704 / Fax: 818-344-7179
Cell: 818-512-6090
marlene@smithmillermoore.com