Product News: Sensors Monitors & Transducers
Ultrasonic Sensor measures liquid-solid interfaces in tanks.
Press Release Summary: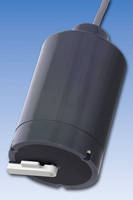 November 26, 2012 - Turbimax CUS71D ultrasonic interface sensor suits water, wastewater, and chemical processes where suspensions are separated into liquid and solid components by sedimentation. Used with Liquiline M CM44x transmitters, product can detect interface level at distances of 1-32 ft with maximum error of 1.3 in. Immersion sensor operates in process temperatures from 34-122ºF and pressures up to 87 psi. It installs in open basins, channels, and tanks with stainless steel or PVC mounting hardware.
Original Press Release
Endress+Hauser Releases Turbimax CUS71D Ultrasonic Interface Sensor
Press release date: November 9, 2012
The immersion sensor can detect the separation and transition zones of clarification and settling phases in water, wastewater and chemical processes.
Endress+Hauser introduces the Turbimax CUS71D ultrasonic immersion sensor for interface measurements in processes where suspensions are separated into their liquid and solid components by sedimentation. It can monitor the separation and transition zones of the clarification and settling phases continuously.
The sensor uses a piezoelectric crystal to generate an ultrasonic signal, and measures the time required for the signal to reach solid particles in the separation zone, and then return to the receiver. The sensor is used with Endress+Hauser's Liquiline M CM44x series of transmitters to form a complete measurement system.
The speed of sound varies according to the physical properties of the measuring medium and is affected by temperature and air pressure. The composition of the liquids and solids can also vary. Endress+Hauser's M CM44x multi-parameter/multiple sensor transmitters are able to compensate and adjust for these changing process conditions, ensuring accurate measurement.
The transmitters can mask out regions where the separation zone is not expected, evaluate received signal strengths, select leading or trailing signal edges in the evaluation, and define a region above and below the expected separation zone to serve as a "gate"—that is, signal evaluation takes place only in the defined region. The gate can "wander" with the separation zone as required for accurate measurement. The CM44x can also amplify sensor signals at different rates to account for process conditions such as floating sludge.
One sensor can be connected to a CM442 transmitter, and up to four sensors can be connected to a CM444 or CM448 transmitter. Multiple sensors may be needed for monitoring more than one tank, for monitoring more than one interface level in the same tank, or for other applications.
The CM44x transmitter can include up to eight 4-20mA current outputs, eight relay outputs and two analog inputs. The transmitter can be configured as Ethernet-based webserver, and this integrated webserver option provides remote access via any web browser. Hart, Profibus, Modbus TCP and Modbus 485 digital busses are also available as an alternative to analog outputs.
The transmitter has a back-lit graphic display with drop-down menus for monitoring values, and displays outputs from the built-in data logger. The data logger can maintain up to eight separate data logbooks, with 150,000 entries per logbook. The data logger has an adjustable scan time of one second to six hours, and a logbook that keeps track of up to 75 calibrations.
Two sensor models are available: a standard sensor and a sensor with a wiper to avoid film and air bubble formation at the sensor transducer. Each model can detect the interface level at distances of 1-32 ft from the sensor with a maximum error of 1.3 inches (35 mm).
The sensor can be installed in open basins, channels and tanks. It operates in process temperatures from 34 to 122 ºF, and pressures up to 87 psi. Mounting hardware is available in stainless steel or PVC.
Applications for the CUS71D/CM44x measurement system include:
• Wastewater treatment: primary clarifier, sludge thickener and secondary clarifier
• Drinking water: settling basin after flocculant dosage, filter media expansion monitoring to optimize backwash operations, monitoring sludge height
• Chemical industry: static separation processes
Endress+Hauser manufactures equipment at its Conducta production facilities in Anaheim, California and Gerlingen, Germany, both ISO accredited facilities. Calibration of the sensor is accomplished by the factory, with all calibration data residing in the sensor, making field calibration unnecessary and ensuring optimum performance.
For more detailed technical information on the Turbimax CUS71D ultrasonic immersion sensor please go to the product page at:
www.us.endress.com
/CUS71D
About Endress+Hauser
Endress+Hauser is one of the world's leading suppliers of measuring devices, services and solutions for industrial process engineering. In 2011, the company group recorded sales of approx. 1.9 billion dollars with more than 8,800 employees. Endress+Hauser supplies sensors, devices, systems and services for level, flow, pressure and temperature measurement as well as liquid analysis and measured value recording. The company supports its customers with automation, logistical and IT services and solutions.
Contact:
Crystal Abrell
Market Content Development Manager
Endress+Hauser, Inc.
Phone:  317-535-7138
Fax:  317-535-2171
crystal.abrell@us.endress.com
www.us.endress.com