Product News: Sensors, Monitors & Transducers
Ultrasonic Flowmeter measures methane content of biogas.
Press Release Summary: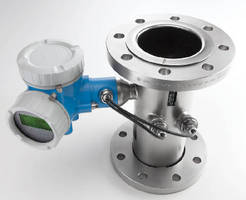 June 27, 2012 - Based on transit time ultrasonic technology, Prosonic B 200 measures flow rate and methane content of wet biogas, landfill, or digester gas, and other types of low pressure, wet, or contaminated gas. Intrinsically safe unit has 316L SS body and aluminum or stainless steel transmitter housing. Operating from 32-176°F and up to 145 psi, loop-powered 2-wire device supports 4-20 mA HART communication. Accuracy of volume flow is 1.5% of reading, and accuracy of methane measurement is 2% absolute.
Original Press Release
Endress+Hauser Introduces Proline Prosonic B 200 Ultrasonic Biogas Flowmeter
Press release date: June 22, 2012
The Prosonic B 200 measures the flow and methane content of biogas for process control, emissions reporting and energy balancing in anaerobic digesters and other biogas producing processes. Endress+Hauser introduces the Proline Prosonic B 200 ultrasonic flowmeter for measuring the flow rate and methane content of wet biogas, landfill or digester gas, and other types of low pressure, wet or contaminated gas. The B 200 designers applied transit time ultrasonic technology, which has been proven in wet, dirty refinery flare gas applications for almost thirty years, improved it and optimized it for biogas applications. The B 200's meter body has a 316L stainless steel construction and is suitable for wet, dirty or corrosive gases. The flowmeter is available with either an aluminium or stainless steel transmitter housing. With no moving or intrusive parts, the B200 solves operational reliability problems that are typical of other technologies in wet and dirty biogas applications. The B 200 can also measure and display direct methane fraction as a function of sound velocity and temperature, without the need for additional measuring instruments. Other possible outputs include corrected methane volume flow, energy flow, calorific value, temperature and Wobbe index. These measurements allow for improved process control and energy balancing. For example, a sudden change in the methane fraction indicates an upset in the process. The B 200 can detect this change quickly, allowing corrections to be made. The B 200 operates in temperatures of 32 to 176 ºF and pressures up to 145 psi. Accuracy of volume flow is 1.5% of reading, and accuracy of the optional methane measurement is 2% absolute. The B 200 is a loop-powered two-wire device with 4-20mA HART communication. A second 4-20 mA output is available. The flow meter is certified intrinsically safe for use in Class 1 Division 1 and other hazardous areas. It has ATEX, IEC and cCSAus approvals, and NEMA 4X, IP66 and IP67 protection. It also has pressure equipment directive approval (PED). Calibration and Setup
Endress+Hauser manufactures the flowmeter at its Greenwood, Indiana, manufacturing campus. Each B 200 is tested and calibrated before shipment on an ISO/IEC 17025 accredited calibration rig. The calibration facilities are traceable to national and international standards. The B 200 can be commissioned quickly via its four-line display and three pushbuttons. Menu-guided parameter configuration is supported by explanatory text in 16 languages. It can also be configured with Endress+Hauser's FieldCare software over the HART connection, or via a local service interface and a laptop computer. Automatic data backup is provided by the HistoROM function which provides storage for 1,000 measured values, quick restoration of device data in case of failure, and easy replacement of meter electronics without recalibration. The HistoROM also provides a user-defined data logging function, which logs data according to a recording interval set by the user. For more detailed technical information on the B 200, please go to the product page at: www.us.endress.com/prosonic-flow-b200 About Endress+Hauser
Endress+Hauser is one of the world's leading suppliers of measuring devices, services and solutions for industrial process engineering. In 2011, the company group recorded sales of approx. 1.9 billion dollars with more than 8,800 employees. Endress+Hauser supplies sensors, devices, systems and services for level, flow, pressure and temperature measure¬ment as well as liquid analysis and measured value recording. The company supports its customers with automa¬tion, logistical and IT services and solutions. Contact: Sara Fisk
sara.fisk@us.endress.com
Marketing Communications Manager
Endress+Hauser, Inc.
Phone: 317-535-2108
Fax: 317-535-2171
www.us.endress.com