Product News: Controls & Controllers
Temperature Controller accelerates viscosity measurements.
Press Release Summary: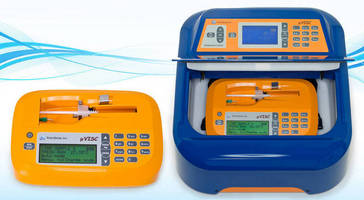 December 27, 2012 - When used with microVISC handheld viscometer, microVISC TC promotes accurate viscosity measurement that would eliminate any uncertainty and let users adhere to stringent requirements. Peltier-based unit has temperature range of 60 to 122°F, and PID controller with advanced fuzzy logic enables accelerated and precision temperature control with accuracy of 0.02°C and stability of 0.07°C. Optional software allows remote temperature control as well as touch-pad operation of microVISC.
Original Press Release
Now Make Rapid Viscosity Measurements with Precise Temperature Control
Press release date: December 19, 2012
A New MEMS-Based Paradigm for Liquid Flow Management

RheoSense, Inc. has proudly unveiled the newest member of the VROC family, microVISC TC, a precise temperature controller for the handheld microVISC viscometer.

Temperature dependence is one of the most important factors in determining viscosity so a minute variation can possibly lead to significantly erroneous results.

With the advent of microVISC TC, microVISC is now capable of offering accurate viscosity measurement which would eliminate any uncertainty and allow users to adhere to the most stringent requirements.

The Peltier-based microVISC TC has a temperature range between 15 ~ 50°C (60 ~ 122°F). A PID controller with advanced fuzzy logic allows faster and precise temperature control with an accuracy of 0.02oC and stability of 0.07oC.

An optional software program further allows remote temperature control as well as touch-pad operation of the microVISC.

About RheoSense Inc.
RheoSense Inc., is a global viscosity measurement equipment manufacturer. Its VROC (Viscometer-Rheometer-On-a-Chip) technology is the only MEMS microfluidic chip-based viscometry technology in the world. This innovation provides accurate, repeatable viscosity measurement using today's technology to reduce device footprint and sample size and is being readily adopted in BioPharmaceutical, Lubrications, Ink and other applications.

For additional information about the VROC technology, contact RheoSense, Inc., 2678 Bishop Drive, Suite 270, San Ramon, CA 94583 USA.
Phone: 925-866-3801
E-mail: sales@rheosense.com
or visit our Web site: www.rheosense.com

Client Contact:
Rajib Ahmed - rahmed@rheosense.com