Product News: Labels Tags Signage & Equipment
Safety Sign warns of drilling machine hazards.
Press Release Summary: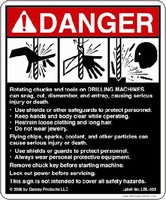 March 28, 2007 - Constructed of 0.002 in. thick polyester, Safety Sign addresses safety hazards created by rotating chucks and tools on drilling machines. High-bond-strength acrylic adhesive by 3M offers chemical resistance and holding strength at temperatures up to 350°F. It can adhere to LSE plastics, powder coatings, and oily metals. Measuring 5 x 6 in., sign complies with ANSI Z535-2006 standards for design, application, and use of signs, colors, and symbols for accident prevention.
Original Press Release
Safety Sign for Drilling Machines Informs of Hazards Created by Rotating Chucks and Tools
Press release date: February 27, 2007
Rockton, Illinois, February 27, 2007: Danray Products LLC recently released its one-of-a-kind safety sign for drilling machines. This danger sign addresses the main safety hazards created by rotating chucks and tools on drilling machines. This sign is 5" L x 6" H. Danray Products' safety sign has been designed to comply with the ANSI Z535-2006 series of standards for the design, application, and use of signs, colors, and symbols for accident prevention. This 0.002"-thick polyester sign has a high-bond-strength acrylic adhesive by 3M that has excellent chemical resistance and holding strength even at high temperatures (up to 350°F). This adhesive is the best choice for labels that need to adhere to LSE (low surface energy) plastics, powder coatings, or oily metals. Danray Products LLC
11859 Deacon Drive
Rockton, Illinois 61072-9411 Contact:
Ryan Ebens
Toll-Free: 1.866.482.6807
Phone:815.262.6667
Fax: 815.282.5186
E-mail: ryan.ebens@danrayproducts.com
Web:
www.danrayproducts.com