Rolling Panels provide secure storage for maintenance tools.
Press Release Summary: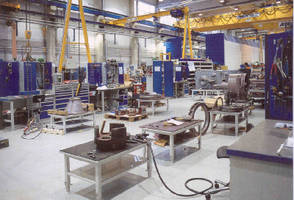 February 3, 2014 - Without requiring structural changes, Actistor Rolling Panels add walls for storage of tools and maintenance equipment. Panels provide system of single or double storage faces which sit parallel to one another and slide in and out as required. Made from steel, bump-resistant panels and frames are powder coated to withstand elements and prevent rust incursion. Products are sized according to user's requirement and are provided in any color or configuration.
Original Press Release
Secure Storage, Increased Space for Maintenance and Service Tools
Press release date: January 24, 2014
A clever arrangement of Actistor Rolling Panels can effectively increase the area of available face-wall within existing rooms conveniently located in service and maintenance workshops.

Without needing structural changes to existing workshop walls, Actistor Rolling Panels basically add 'additional walls' for storage of tools and maintenance equipment.

Effectively, it gives the user a system of storage faces which sit parallel to one another and slide in and out as required. These can have single face or double face configuration.

Tools which until now have been mounted to all available walls of a workshop or maintenance depot can be contained within Actistor Rolling Panels occupying an amount of space equal to that taken up by an average industrial cabinet.

For example, in a workshop or maintenance room that is approximately 4 x 4 metres, the addition of the Actistor technology can increase tool storage/hanging areas about six-fold.

Additions are fast and simple, and any room which installs them becomes far more organised and is expected to constantly remain in pristine condition.

Stickers on the Rolling Panel edges indicate clearly what piece is located on each sliding partition to enable service personnel to quickly find required tools and parts.

Actistor Rolling Panels are made in Australia by 'Defence Recognised Supplier', Actisafe. They offer users the ability to arrange all equipment in any manner seen fit and the open configuration ensures at a glance the clearest view of what tools/components are there and what is missing.

The product is sized according to the user's requirement and is provided in any colour or configuration.

Made from steel, Actistor Rolling panels and frames are not just strong and bump resistant but also powder coated at Actisafe's coating plant to withstand the elements and prevent rust incursion.

Even its castor rollers are industrial strength with long life bearings to ensure long, continuous operation, even on a 24/7 duty cycle.

More than 100 different hooks, tools and brackets are available as part of the package to ensure every type of tool can be mounted on the face panels.

For more information, please contact Actisafe. 1300 852 397.