Product News: Electronic Components & Devices
Quad-Channel 16-Bit IF DAC has programmable interpolation rate.
Press Release Summary: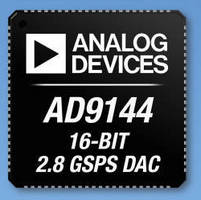 June 6, 2014 - Enabling wideband and multiband wireless applications, AD9144 comes in 12 x 12 mm, 88-lead LFCSP and draws 1.5 W. While 82 dBc SFDR and max sample rate of 2.8 GSPS permit multicarrier generation up to Nyquist frequency, -164 dBm/Hz noise spectral density enables building of higher dynamic range transmitters. SFDR and distortion levels provide synthesis of wideband signals from baseband to high intermediate frequencies. For 6 carrier GSM IMD, DAC operates at 77 dBc at 75 MHZ IF.
Original Press Release
Analog Devices Releases Fastest Quad IF Digital-to-Analog Data Converter
Press release date: May 29, 2014
AD9144 D/A converter's ultra-wide signal bandwidth, high dynamic range and proprietary design combine to provide best performing GSPS D/A converter in its class
NORWOOD, Mass. -- Analog Devices, Inc. (NASDAQ: ADI), a global leader in high-performance signal processing technology and the data converter market share leader*, introduced today the industry's fastest quad IF D/A converter. The AD9144 4-channel, 16-bit, 2.8-GSPS D/A converter supports high data rates and ultra-wide signal bandwidth enabling emerging wideband and multiband wireless applications.
The AD9144 features 82-dBc spurious-free dynamic range (SFDR) and a maximum sample rate of 2.8 GSPS permitting multicarrier generation up to the Nyquist frequency. With industry-leading -164 dBm/Hz noise spectral density, the AD9144 enables higher dynamic range transmitters to be built. Its advanced and proprietary low SFDR and distortion design techniques provide high quality synthesis of wideband signals from baseband to high intermediate frequencies. A JESD204B eight-lane interface and low inherent latency of under two D/A converter clock cycles simplifies hardware and software system design while allowing for multichip synchronization.
View the AD9144 D/A converter product page, order samples, and download the data sheet:
http://www.analog.com/AD9144
Buy and evaluate today: Digi-Key Corp. and Mouser Electronics stock inventory of the AD9144-EBZ evaluation board
Get support at ADI's EngineerZone® online technical support community:
http://ez.analog.com/community/data_converters/high-speed_dacs
The combination of programmable interpolation rate, high sample rates and low power at 1.5 W gives system designers flexibility when choosing D/A converter output frequencies. This is especially helpful in meeting four- to six-carrier GSM transmission specifications and other communications standards. For six carrier GSM IMD, the AD9144 operates at 77 dBc at 75-MHZ IF. Operating with the on-chip PLL (phase-locked loop) at a D/A converter output frequency of 30 MHz, the AD9144 delivers a 76-dB adjacent-channel leakage ratio (ACLR) for four-carrier WCDMA applications.
The AD9144 includes integrated interpolation filters with selectable interpolation factors of 2, 4, and 8. The dual D/A converter data interface supports word and byte load allowing customers to reduce input pins on lower data rates to save board space, power and cost.
Evaluation Board Environment Speeds Prototyping and Design
The AD9144 is supported by an evaluation board with an FPGA Mezzanine Card (FMC) connector, software, tools, SPI controller and reference designs. ADI's VisualAnalog™ software package combines a powerful set of simulation and data analysis tools with a user-friendly graphical interface allowing designers to customize their input signal and data analysis.
Pricing and Availability

| | | | |
| --- | --- | --- | --- |
| Product | Availability | Price Each Per 1K | Packaging |
| AD9144BCPZ | NOW | $80.00 | 12mm X 12mm 88-lead LFCSP |
| AD9144-EBZ Evaluation Board | NOW | $495 per | NA |
| AD9144-FMC-EBZ FMC Evaluation Board | NOW | $495 per | N/A |
About Analog Devices
Innovation, performance, and excellence are the cultural pillars on which Analog Devices has built one of the longest standing, highest growth companies within the technology sector. Acknowledged industry-wide as the world leader in data conversion and signal conditioning technology, Analog Devices serves over 60,000 customers, representing virtually all types of electronic equipment. Celebrating over 50 years as a leading global manufacturer of high-performance integrated circuits used in analog and digital signal processing applications, Analog Devices is headquartered in Norwood, Massachusetts, with design and manufacturing facilities throughout the world. Analog Devices' is included in the S&P 500 Index.
* Analog Devices, Inc. leads the worldwide data converter market with a 48.5 percent share, according to industry analyst firm Databeans, Inc. in its market research report titled "2012 Analog." Analog Devices' share is larger than the combined market share of the nearest eight competitors.
VisualAnalog is a trademark and Engineerzone is a registered trademark of Analog Devices. Inc.
Follow ADI on Twitter at
http://www.twitter.com/ADI_News
To subscribe to Analog Dialogue, ADI's monthly technical journal, visit:
http://www.analog.com/subscribe
.
Contacts
Analog Devices Inc.
Bob Olson, 781-937-1666
bob.olson@analog.com
or
Porter Novelli
Andrew MacLellan, 617-897-8270
andrew.maclellan@porternovelli.com