Product News: Adhesives & Sealants
Pressure-Sensitive Adhesive suits electronic parking brakes.
Press Release Summary: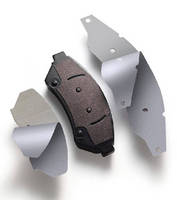 October 19, 2011 - Designed to withstand high heat and pressure challenges associated with electronic parking brakes, EPB Adhesive offers optimal damping at 212°F, and resists adhesive bleed at temperatures greater than 302°F and pressures greater than 200 bar. In addition, brake shim adhesive enables long-term service while minimizing noise, vibration, and harshness.
Avery Dennison Corporation - Pasadena, CA
Original Press Release
Avery Dennison Launches Industry's First Dedicated Electronic Parking Brake Pressure-Sensitive Adhesive
Press release date: October 12, 2011
New EPB Offering Highlights an Extensive Range of Adhesives for Brake Applications PAINESVILLE, Ohio - A new brake shim adhesive that withstands the high heat and pressure challenges associated with electronic parking brakes (EPB) while providing excellent damping characteristics has been introduced by Avery Dennison Performance Tapes. The new adhesive is the automotive industry's first brake shim pressure-sensitive adhesive solution engineered specifically to meet electronic parking brake performance challenges. The tape offers best in class damping at 100 C/212 F, and resists adhesive bleed at temperatures >150 C/302 F and pressures at >200 bars.
According to Gulsah Metinoz, global product manager, Avery Dennison Performance Tapes, the new EPB adhesive is engineered to reduce noise, vibration and harshness.
"The new Avery Dennison EPB adhesive is the only product that can solve the problem of bonding an EPB shim onto the pad for long-term service and at the same time offer a noise reduction benefit," she says. "Others can't do that. Prior to this product introduction, design engineers had to settle for short service life or else compromise on the quality of the sound level.
"Brake shim adhesives bond the shim to the brake pad," Metinoz continues. "With the automotive industry's new generation of electronic parking brakes, which is rapidly gaining market share worldwide, the pressure on the brake pad and shim is much higher than with conventional parking brakes. Plus, they produce much higher temperatures. As a result, existing brake shim adhesive products do not work satisfactorily. The pressures are so much higher that they squeeze the adhesive out from between the shim and pad. With electronic parking brake applications you need an adhesive that can both withstand the pressure and remain in place."
Metinoz says that design engineers throughout the supply chain will find the new adhesive of interest. "One auto manufacturer claims that in seven years all models will be equipped with EPB," she says. "Obtaining a brake shim adhesive solution to meet that demand is the concern of all engineers through the supply chain."
The Avery Dennison Brake Adhesive Portfolio
During more than 20 years of providing brake adhesive solutions to vehicle markets, Avery Dennison Performance Tapes has brought a host of innovative products to the industry's engineering community. Today, the company boasts seven separate product lines, a range that includes acrylic and silicone solutions for virtually any brake application. These include acrylic adhesives that withstand cold, high heat and room temperatures, meet needs for high sheer strength and satisfy a broad range of damping requirements. Silicone adhesives are available that offer ultra-high degradation resistance at temperatures >250 C/482 F.
For more information email us at PSA.Tape@averydennsion.com.
About Avery Dennison
Avery Dennison (NYSE:AVY) helps make brands more inspiring and the world more intelligent. For more than 75 years the company has been a global leader in pressure-sensitive technology and materials, retail branding and information solutions, and organization and identification products for offices and consumers. A FORTUNE 500 company with sales of $6.5 billion in 2010, Avery Dennison is based in Pasadena, California and has employees in over 60 countries. For more information, visit
www.averydennison.com
.