Product News: Controls & Controllers
PLC and Counter Module include embedded communications ports.
Press Release Summary: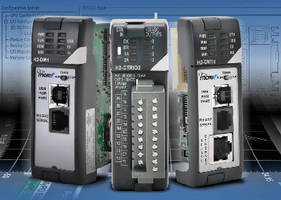 September 13, 2012 - Using DirectLOGIC DL205 hardware as platform, Do-more H2 Series supports all base units, as well as discrete and analog I/O modules available for DL205 PLC. Do-more CPU installed in DL205 9-slot base supports up to 256 I/O points. I/O Configuration window performs full auto-discovery of all I/O modules in local base, simplifying system configuration. Accompanying high-speed counter module has 4 independently configurable timer/counter channels up to 250 kHz and 2 pulse output generators.
AutomationDirect.com (AutomationDirect) - Cumming, GA
Original Press Release
AutomationDirect Launches New Do-more PLC and Counter Module
Press release date: September 6, 2012
Cumming, Ga. –  AutomationDirect has released the latest addition to its PLC offerings, the Do-more H2 Series PLC. This new PLC line offers features and performance of high-end PLCs for an economical price.

Using the proven DirectLOGIC DL205 hardware as a platform, the Do-more H2 PLC supports all base units, discrete and analog I/O modules available for the DL205 PLC. However, it has a much more flexible and advanced design that makes integrating I/O and organizing a program much easier. The H2 CPUs offer four times more program memory, nine times more data memory, and operate at speeds up to 20 times faster than current DL205 CPUs. "Higher processor speeds not only decrease program execution time, but also allow the CPUs to support Ethernet connectivity and custom communication protocols as built-in functions", says Sammy Natsui, AutomationDirect's PLC product manager.
A Do-more CPU installed in a DL205 9-slot base supports up to 256 I/O points. The I/O Configuration window performs full auto-discovery of all I/O modules in the local base, simplifying system configuration.

For larger applications, one or more Remote I/O Master modules installed in the local base can each connect to up to 16 remote I/O subsystems, which can provide hundreds of additional I/O points.

H2 series CPUs reduce system cost and space by including embedded communications ports. The H2-DM1 CPU with one serial and one USB port sells for $299; the H2-DM1E also includes an embedded Ethernet port for just $399. "Device abstraction" makes it easy to connect external devices by allowing the user to assign logical names and then refer to those names throughout the program code for ease and clarity.

Programmed using Do-more Designer software that can be download free of charge, the Do-more PLC provides an advanced instruction set to reduce programming time, superior memory mapping to improve data management, and data structures to simplify initial programming and long-term software maintenance.

The Do-more PLC enables developers to write program code before selecting the specific target hardware. Nicknames can be assigned to inputs and outputs, then later tied to the physical configuration. Within data memory, the developer can allocate partition size by variable types for maximum flexibility.

Natsui points out further advantages of the new software, saying, "With a wide array of high-level program blocks in Do-more, developers can use two or three instructions to program functionality that used to require many lines of hard-to-understand ladder logic." This simplifies and speeds development, and also promotes standardization. For example, the Spreadsheet style MATH instruction allows mixing of data types, and accepts formulas and variables. The MATH instruction also allows nesting with parentheses to 8 levels, and supports Trig and Statistical functions.

Do-more Designer's built-in simulator creates a virtual PLC so logic can be tested without a PLC present. The tool simulates discrete and analog I/O, with access to timers, counters and control bits, as well as the PID function.

The accompanying next-generation high-speed counter module (H2-CTRIO2, priced at $299) has four independently configurable timer/counter channels (up to 250 kHz) and two pulse output generators (up to 250 kHz). All configuration and profile setup functions are built into the Do-more Designer software to integrate the module with the application logic.
Two available starter kits provide a prewired, 3-slot base with choice of Do-more CPU, an 8-point input simulator module, and an 8-point relay output module. Also included are a copy of the Do-more Designer software on CD, a hard copy of the user manual, a USB programming cable, and a coupon for free online training. Starter kits start at $536.
For more information, please visit: www.automationdirect.com/do-more-plcs.  

AutomationDirect sells over 12,000 feature-packed products through its Online Automation Superstore and 2,750-page catalog. The company offers its customers high-quality automation products at prices typically below the industry average, same-day shipping on in-stock items, the best documentation in the industry, outstanding sales and technical support, and a 30-day money-back guarantee on nearly every product. For a free catalog, access their Web site at www.automationdirect.com or call 800-633-0405.

#1 Value in Automation: low prices, fast shipping and superior service
www.automationdirect.com