Product News: Fasteners & Hardware
Plastic Hollow Knurled Knobs feature closed design.
Press Release Summary: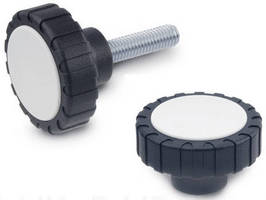 December 21, 2011 - Series GN 7336, with steel tapped inserts or threaded studs, comes in metric sizes, and series GN 7336-NI offers inserts or studs of stainless steel. RoHS-compliant knurled knobs are made of glass fiber reinforced plastic with black matte finish. Tapped inserts and threaded studs are made of zinc-plated, blue passivated steel or stainless steel. They are standard hexagonal nuts, which are press-fitted by machine. Threaded studs are also press-fitted by machine.
Original Press Release
J.W. Winco Canada, Inc. Plastic Hollow Knurled Knobs Have Closed Design
Press release date: December 16, 2011
MISSISSAUGA, ON - J.W. Winco Canada, Inc., a leading supplier of standard industrial machine components, announced it now offers series GN 7336 Plastic Hollow Knurled Knobs, with steel tapped inserts or threaded studs, in metric sizes. Also available is the new series GN 7336-NI, with inserts or studs of stainless steel. These RoHS compliant knurled knobs are made of glass fiber reinforced plastic with a black matte finish. Tapped inserts and threaded studs are made of made of zinc plated, blue passivated steel, or of stainless steel. The tapped inserts are standard hexagonal nuts, which are press-fitted in by machine. The threaded studs are press-fitted in by machine. Cover caps are glass fiber reinforced plastic with a light gray matte finish. Other cap colors as well as printed lettering on caps are available upon request. GN 7336 knurled knobs feature an attractive and ergonomic design. They also offer the advantage of a closed shape (no recesses on the underside) suitable for applications with hygienic requirements. J.W. Winco Canada offers an extensive selection of inch and metric size adjustable levers, cabinet U-handles, plastic and steel hinges and locking mechanisms, revolving and retractable handles, hand wheels, hand cranks, tube connection and conveyor components, inch and metric construction tubing, shock absorption mounts, leveling mounts, hand knobs, spring, ball and indexing plungers, jig, fixture and fastening components, retaining magnet assemblies, toggle clamps, metric casters and wheels, universal joints, oil sight glasses, and metric tools for the industrial and commercial equipment industries. J.W. Winco Canada's Web site catalog, with 3D CAD and online buying, is viewable at
www.jwwinco.ca
. For more information, contact J.W. Winco Canada at 800-877-8351, by fax at 800-472-0670, on the Web at
www.jwwinco.ca
, and via e-mail at sales@jwwinco.ca. Dave Amoroso, Vice President Ron Sonntag Public Relations, Inc. 9406 N. 107th Street | Milwaukee, WI 53224 414-354-0200, ext. 108 | fax: 414-354-5317 | cell: 414-788-4913 dave@rspr.com