Product News: Test & Measuring Instruments
Permeability Test System indicates oxygen transmission rate.
Press Release Summary: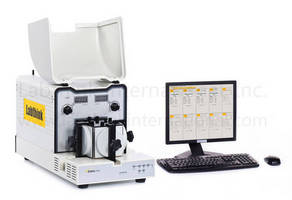 March 21, 2014 - Based on equal pressure/coulometric method, i-Oxtra 7700 measures oxygen transmission rate (OTR) of various films, sheeting, and finished packages. System integrates 3 test cells, promoting operational efficiency while reducing space requirements. Film test ranges are 0.01–6,500 cm³/m²·d (standard) and 0.07–65,000 cm³/m²·d (optional), both with 0.001 cm³/ m²·d resolution. Optional package test has 0.0001–60 cm³/pkg·d range and 0.00001 cm³/pkg·d resolution.
Labthink International, Inc. - Medford, MA
Original Press Release
Test System Indicates Oxygen Transmission Rate (OTR)
Press release date: March 20, 2014
Oxygen transmission rate is an important data of packaging materials. It directly affects the product shelf life and package quality. Labthink i-Oxtra 7700 Oxygen Transmission Rate Tester is based on equal pressure/coulometric method. It is developed to measure oxygen transmission rate of various films, sheeting and finished packages.
This newly designed oxygen transmission rate tester adopts patented integrated design of three test cells, which improves the test efficiency and reduces the space occupancy of the instrument.
This oxygen permeability tester can be used with our advanced Online Data Management System for packaging testing, which comes with two versions to meet distinct needs of our clients: the cloud version and the intranet version.
More info please visit
http://www.labthinkinternational.com/product/i-oxtra-7700-oxygen-transmission-rate-testing-system.html