Product News: Computer Hardware & Peripherals
Panel PCs enhance process manufacturing IT and OT convergence.
Press Release Summary: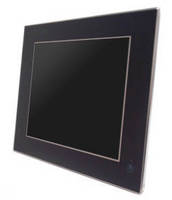 June 14, 2012 - Able to integrate into existing Ethernet and TCP/IP installations, AIS HMI industrial panel computers enable close-to-machine operation and monitoring in control and data processing applications. Operators can see real-time updates of processes in Web browser, gaining access to KPIs that enhance decision making process. Intel® Core(TM)-based panel PCs are available for SCADA or MES applications, while Intel® Atom(TM)-based panel PCs suit machine-, site-, or mid-level HMI applications.
American Industrial Systems, Inc - Irvine, CA
Original Press Release
AIS Introduces Panel PCs that Enhance IT and OT Convergence in Process Manufacturing
Press release date: May 29, 2012
Enable close-to-machine operation and monitoring in control and data processing applications Irvine, Calif. -- American Industrial Systems Inc. (AIS), an ISO 9001:2008-certified supplier and manufacturer of industrial panel PCs and Human Machine Interface (HMI) systems, announces a new line of panel PCs that easily integrate into existing Ethernet and TCP/IP installations. These solutions are available from Avnet Embedded, a division of Avnet Electronics Marketing Americas, a business region of Avnet, Inc. (NYSE: AVT). To find out more, visit http://em.avnet.com/aisgraphicoperatorinterfaceterminals. "For engineers looking to monitor and control mission-critical processes, AIS' solutions allow allowing operators to see desktop-quality graphics and real-time updates of processes in a web browser -- from anywhere in the world," said Nelson Tsay, AIS. "Our products, coupled with Avnet Embedded's integration and supply chain expertise, enable decision makers to gain timely access to key performance indicators (KPIs) and make swift and strategic decisions based on real-time information. Information convergence between manufacturing and business systems within an enterprise allows greater business agility and opportunities for innovation." As manufacturing intelligence projects are initiated to drive improvements in line performance, line availability, overall quality, waste reduction, inventory management, changeovers, reduced impact of recalls, etc. The overall goal is to improve manufacturing operations by turning data into actionable information that drives business results. AIS HMI industrial panel computers are available through Avnet Embedded. Products include: Intel® Core(TM) processor-based panel PCs; ideal for Supervisory Control and Data Acquisition (SCADA) or Manufacturing Execution System (MES) applications and Intel® Atom(TM) processors-based panel PCs; ideal for machine-level, site-level or mid-level HMI applications. AIS' Panel PC line is available in 8.4", 10.1", 10.4", 12.1", 15", 17", 19", 20.1 and 21.5" rugged touch terminals. All operator terminals feature windows-based & pc-based high performance system processors, memory, and storage; USB, RS232, RS422/485, and Ethernet ports; and optional operating system included: Windows 7 Professional, Windows XP Professional, or Windows XP Embedded. About American Industrial Systems, Inc. AIS is a leading global designer and manufacturer of specialty digital signage, industrial panel pc, industrial display and rugged tablet pc solutions for customers in the commercial, industrial, defense and aerospace applications. AIS specialize in designing and manufacturing cost-effective LCD and embedded computing products for the industrial market, as well as ODM/OEM applications worldwide. Whether your vision involves off-the-shelf displays or highly customized embedded computing solutions, AIS can supply the experience, technology, and resources you need to build it right and get you to market first. For additional information on AIS products and services, please call AIS toll-free at (888) 485-6688 or visit: www.aispro.com. Contact: American Industrial Systems, Inc. Alan Wong, 949-681-7461 Alan.wong@aispro.com