Product News: Computer Hardware & Peripherals
Operator Touch Panel Computers offer HMI for brewery operations.
Press Release Summary: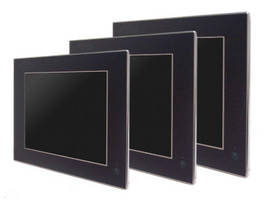 September 7, 2012 - Available with 10.4, 15, or 17 in. LCD touch panels, Industrial Panel PCs feature IP66-rated NEMA 4X stainless steel front bezel to meet strict hygiene regulations for brewery industry. Fan-free systems are based on 1.66 GHz N455 Intel Atom processor and include 2x RS-232/422/485 ports, 1x VGA port, 2x USB 1.1/2.0 ports, and 2x Gigabit Ethernet ports. Users may select expandable I/O combination of RS-232 port and 2x USB 1.1/2.0 ports for different application demands.
American Industrial Systems, Inc - Irvine, CA
Original Press Release
AIS Introduces Operator Touch Panel Computers and HMI Technology for Brewery Operations
Press release date: September 4, 2012
Irvine, Calif. - American Industrial Systems Inc. AIS, an ISO 9001:2008 certified supplier and manufacturer of 10.4, 15, or 17 inch industrial panel PCs combined with innovative HMI technology and IP66 NEMA 4X stainless steel front bezel solutions ideal for Brewery operations. AIS operator touch panel computer provides visualization, process control, overall equipment effectiveness, and clean-in-place (CIP) solutions that reduce costs through improved equipment performance, increased production efficiency and quality across your operations. Operator Touch Panel Computers for Brewery Process Control and Visualization
AIS touch panel computers are industrial monitors with an integrated industrial-grade PC. The panel computers can operate as stand-alone and/or network solutions for combined plant control and visualization through standard interfaces including Ethernet network, USB and serial connection. The pre-installed Windows operating system allows the user to install 3rd party software packages for plant control, visualization and production. The system operates independently without external processing power and can, via serial interface, communicate directly to PLC systems. These systems are pre-tested and qualified to run Wonderware ArchestrA System Platform that provides a single, scalable software platform for integrating existing SCADA, Supervisory HMI, MES and EMI systems into a unified operations management solution. AIS visualization panel computers with IP66 stainless steel front bezel provide Windows into critical production, process information and enterprise data. Across the Brewery industry, applications and manufacturing environment, these products accelerate development and enhance operations. Industrial Panel PCs for Overall Equipment Effectiveness (OEE)
The Brewery industry is constantly evolving, and industrial computing has become the backbone of everyday life in the workplace. Industrial panel PCs are required, whether the application is for a control room, machine automation, assembly line monitoring, user terminals, or inside heavy machinery. Increased demands in processing power, mechanical designs, environmental performance, ruggedness, and high reliability are key concerns in the industry. AIS understands that identifying industrial computer and the right operator interface is essential for solving industrial computing challenges. AIS industrial IP66 stainless steel front panel PCs provide the best-fitting product for overall equipment effectiveness (OEE) solutions. AIS combined the best of the embedded computing and controls knowledge in delivering innovative CPUs, linked to the leading open industrial network, and connected to a full lineup of I/O options in delivering best-in-class availability, performance and quality. Rugged IP66 Stainless Steel Front Panel PCs for Clean-In-Place (CIP)
AIS stainless steel operator control panels and panel PC are highly functional control and display units in 10.4, 15, or 17 inch touch panels that are integrated with Intel Atom processing technology. These systems meet the strict hygiene regulations for the Brewery industry, clean rooms, and feature stainless steel panels with IP 66 protection, virtually gap-less housing design with flush-mounted touch screens, a housing geometry and optimized frame profile that allows liquids to run off, and prevent accumulation and contamination. Other features are: resistance of the stainless steel surfaces and touch screens to cleaning agents and disinfectants, and equipping the display with a splinter guard, which all cover the requirements for cleanroom applications. AIS Industrial Panel PCs with IP66 Stainless Steel Front Bezel Solutions
· Lower Power Intel ATOM 1.66GHz N455 Processor and Fan-free System
· LCD displays with High brightness and contrast ratio: 10.4" (400 cd/m2, 700:1), 15" (400 cd/m2, 700:1), and 17" (350 cd/m2, 1000:1)
· The I/O is a flexible design, main combination with 2x RS-232/422/485 ports (COM1, 2), 1x VGA port, 2x USB 1.1/2.0 ports, 2x Gigabit Ethernet ports. In addition, users may select expandable I/O combination of RS-232 port (COM3), 2x USB 1.1/2.0 ports for different application demands
· The true-flat screen and complete overlay in front of touch panel and bezel (stainless steel or aluminum) protects the display from dust, water and accidental contact (IP66/stainless steel, IP65/aluminum).
· 5-pin terminal block connector for power inlet from the adaptor to the unit. 3-pin is the power (V+ / NC / V-) supplied from a wide input range DC +12V ~ +24V (± 20% tolerance); while the other 2-pin serves the UPS-like purpose. If the AC power source failed and there are no power inputs to the DC adaptor, the other 2-pin on the right side of the connector can supply the power to the unit from the standby UPS
· Power On after AC Power Loss" - when the power is supplied again, it will start Auto Power On (default setting in BIOS)
· HDD and CF card are easily accessible for installation and maintenance.
· Brightness of the Panel PC is adjustable through the application software (API) of the OS system. About American Industrial Systems, Inc.
AIS is a leading global designer and manufacturer of specialty industrial panel pc and industrial display solutions for customers in the Building Automation, Chemical and Petrochemical, Food and Beverage, Oil and Gas, Packaging, Pharmaceuticals, Pulp and Paper, Solar Power, Utilities, Water and Waste Water, Wind Power markets. AIS specialize in designing and manufacturing cost-effective LCD and embedded computing products for the industrial market, as well as ODM/OEM applications worldwide. Whether your vision involves off-the-shelf displays or highly customized embedded computing solutions, AIS can supply the experience, technology, and resources needed in building it right and getting you to market first. For additional information on AIS products and services, please call AIS toll-free at (888) 485-6688 or visit: www.aispro.com. Contact:
American Industrial Systems, Inc.
Alan Wong, 949-681-7461
Alan.wong@aispro.com