Product News: Electronic Components & Devices
OCXO delivers ±0.2 ppb frequency stability.
Press Release Summary: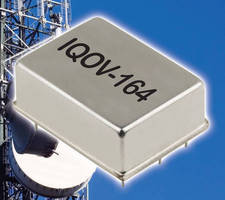 June 13, 2014 - Covering 10–40 MHz range, IQOV-164 series comes in 5-pin euro package measuring 36 x 27 x 13.5 mm and delivers ±0.2 ppb frequency stability from -20 to +70°C or ±0.5 ppb from -30 to +75°C. Frequencies are available up to 100 MHz with stability of ±10 ppb from -30 to +75°C. Consuming 7.0 W max during 3 min warm up, series operates from 3.3 V supply and offers output that can be specified as HCMOS, 15 pF load, or Sinewave into 50 Ω load. Phase noise is typ -158 dBc/Hz at 100 kHz offset.
IQD Frequency Products - San Jose, CA
Original Press Release
IQD's Launches New ±0.2ppb OCXO at IMS 2014
Press release date: June 4, 2014
IQD's new IQOV-164 series oven controlled crystal oscillator (OCXO) delivers exceptional frequency stability performance at ±0.2ppb over an operating temperature range of -20 to 70 degrees C. This new ultra high stability model can also be specified to operate over a wider -30 to 75 degrees C temperature range with only a minor drop in temperature stability performance at ±0.5ppb.
Available over a frequency range from 10 to 40MHz, this OCXO consumes a maximum of 7.0 Watts during warm up time which takes only 3 minutes. Frequencies are available up to 100MHz with a lower stability of ±10ppb over -30 to 75 degrees C. Designed to operate from a 3.3V supply, the IQOV-164 is housed in an industry standard 5-pin euro package measuring 36 x 27mm and 13.5mm high.
Output can be specified as either HCMOS, 15pF load or Sinewave, into 50 Ohms load. Phase noise performance is typically -158dBc/Hz at 100kHz offset and the IQOV-164 can be specified with different frequency pulling options in order to offset the impact of ageing. Typically ageing is ±0.2ppb per day, ±10ppb per year depending on the required specification.
With the IQOV-164 offering such exceptional frequency temperature stability combined with a short term stability of 1E-11/S it is particularly suitable for a range of applications including: 4G and LTE base stations, test & measurement, GPS, radar, communications, point to point communications and Sonet/SDH.
This new series forms part of an extensive range of OCXO's available from IQD, which include extremely low phase noise performance and ultra small packages. Further information and the full data sheet is available at
www.iqdfrequencyproducts.com
.
Notes:
Backed by a pedigree that has been developed over 40 years, IQD Frequency Products is a recognised market leader in the frequency control market. We have operations in America, Asia and Europe including our specialist high performance product manufacturing division, IQD FOQ GmbH in Germany where we offer a full custom design service, with special emphasis on low phase noise OCXOs based around our own in-house manufactured SC-cut crystals. With active customers in over 60 countries, IQD offers one of the most comprehensive frequency product ranges available, from low cost commercial grade product to that used in high reliability military and professional grade applications, including: Quartz Crystals, Crystal Oscillators, Fast Make Oscillators, VCXOs, TCXOs, OCXOs, Rubidium Oscillators, Automotive Crystals to AEC-Q200 & TS16949 release and Real Time Clock,.
Quality and customer service are the cornerstones of our success and we are absolutely focussed on consistently meeting and exceeding customer expectations. We take a partnership approach to working with our customers. Our experienced multilingual Sales and Application Support teams guide customers from design stage through to full production.
IQD's products are specified by leading manufacturers in the aerospace, automotive, communications, computing, consumer, industrial, medical and military industries throughout the world. We work with several premier chip-set designers on a variety of key projects and hold approvals on a number of products including high specification oscillators. Our full range of products is available direct from all of our offices or via our extensive worldwide distribution and representative network. Full contact details are available on our website at
www.iqdfrequencyproducts.com
.
Further information:
Harriet Charles
IQD Frequency Products Ltd
T: +44 (0)1460 270200
E:
harriet.charles@iqdfrequencyproducts.com
W:
www.iqdfrequencyproducts.com
Join us on:    facebook  -    Twitter  -    LinkedIn   Google Plus