Product News: Controls & Controllers
Multitasking CNC is optimized for performance, operability.
Press Release Summary: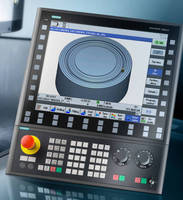 September 29, 2011 - Offering range of functions, Sinumerik 840D sl universal control covers machining technologies used in metalworking operations - turning, drilling, milling, grinding, laser machining, nibbling, and punching - and can also be used in multitasking machines. UI provides integrated turning functionality for milling vice-versa, supplemented by measurement cycles featuring animated elements. Other features include touchscreen operation and 19 in. glass front that conforms to IP66 rating.
Siemens Industry - Digital Factory - Machine Tool Systems - Elk Grove Village, IL
Original Press Release
Siemens Presents Multi-Tasking, Together with Enhanced Performance and Improved Operability in its Sinumerik 840D sl CNC
Press release date: August 2, 2011
CHICAGO - The Sinumerik 840D sl CNC system platform offers a comprehensive range of functions for machine tools. This universal control covers wide-ranging machining technologies used in metalworking operations such as turning, drilling, milling, grinding, laser machining, nibbling and punching, plus it can be used in multi-tasking machines such as turn-mill or mill-turn centers. Whatever the application, Sinumerik 840D sl leads to maximum productivity for the job shop or industrial-scale production department, as well as optimum surface quality for all mold and tool building applications.
This integrated complete machining functionality is simple to configure for different machine kinematics and permits production using widely varied technologies without the need for laborious workpiece reclamping directly on a machine. The Sinumerik Operate user interface provides an integrated turning functionality for milling and an integrated milling functionality for turning, supplemented by new measurement cycles featuring animated elements. The resulting uniform look-and-feel provides smooth operation across all technologies and three methods such as DIN or workstep programming using ShopMill and ShopTurn, or for high-level language programming with programGuide.
The tool management system ensures simple handling of all turning and milling tools as well as hybrid multi-tools in a single standardized user interface. Programming has been extended to include milling and turning tool alignment and approach processes and also turning and milling cycles inclusive of contour programming. Multi-tasking program simulation also provides user support, offering further improvements in machining efficiency.
With the benefit of modern touchscreen operation, the new Sinumerik operator panel OP 019, now extended to include the new Power Control Unit (PCU) 50.5, allows high-speed key actuation at the large 19-inch glass front, which conforms to the IP66 protection rating. Another new feature of the OP 019 design is the wide LEDs, which allow the operator to clearly visualize every key actuation, no matter what the angle of vision, and an integrated key lock helps safeguard against operating errors. The new operator panel is able to provide a basic machine display with three or four channels showing up to 13 axes.
For more information about CNC solutions and services from Siemens, point your web browser to
www.usa.siemens.com/cnc.
Talk to us on Twitter:
www.twitter.com/siemens_cnc_us
and follow us on Facebook at http://www.facebook.com/SiemensCNC.
An array of new functions for Sinumerik 840D sl CNC further improves the productivity of complex machine applications. The newly integrated complete machining functionality provides simpler, more economical machining operations in a single workstep on multi-tasking machines. The picture shows the new operator panel OP 019, allowing modern touchscreen operation functions.
Please forward all inquiries to: Siemens Industry, Inc. Motion Control Business - Machine Tools 390 Kent Avenue Elk Grove Village, IL 60007 Attn: Marketing Communications
For specific product information and inquiries, call (800) 879-8079 ext. Marketing Communications or send an e-mail to: SiemensMTBUMarCom.industry@siemens.com
Siemens Industry Siemens Industry, Inc. is the U.S. affiliate of Siemens' global Industry Sector business-the world's leading supplier of production, transportation and building technology solutions. The company's integrated hardware and software technologies enable comprehensive industry-specific solutions for industrial and infrastructure providers to increase their productivity, sustainability and profitability. The Industry Sector includes six divisions: Building Technologies, Industry Automation, Industry Solutions, Mobility, Drive Technologies and Osram Sylvania. With nearly 204,000 Siemens Industry Sector employees worldwide, the Industry Sector posted a worldwide profit of $4.7 billion on revenues of $47.3 billion in fiscal 2010. http://www.usa.siemens.com/industry
Drive Technologies A division of Siemens Industry, Inc., the Drive Technologies Division is the world's leading supplier of electrical and mechanical products, applications and solutions that cover the entire drive train. Drive Technologies is the global leader in energy-efficient motors and drives, as well as products and services for production machinery and machine tools. Technologies include standard products, industry-specific control and drive solutions, as well as mechatronics support and online services for web-based fault management and preventive maintenance. Drive Technologies provides its customers with energy-efficiency, productivity and reliability in industries as diverse as clean and renewable energy, transportation, oil and gas, utilities, metals and mining, machinery manufacturing and machine tools. With nearly 36,000 employees worldwide, the Drive Technologies Division posted worldwide revenues of $9.5 billion in fiscal year 2010.
www.usa.siemens.com/drives