Product News: Materials & Material Processing
Mold Release Coating extends molding cycles.
Press Release Summary: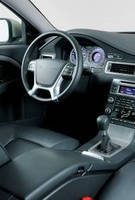 September 24, 2012 - Intended for manufacturers of in-mold coated and flexible polyurethane molded products, Mold Release Agent 8016 offers unique blend of wax and silicone that helps keep mold surfaces clean. Robotic spray application of coating with low solids output from 12–18 g/min maximizes parts molded per gallon. Formulated to provide unblemished parts at mold temperatures from 110–145°F, water-based agent is suited for automotive steering wheels, handles, office furniture, and interior trim components.
Original Press Release
Extend Molding Cycles with Huron Technologies' Release Coating 8016
Press release date: September 18, 2012
Leslie, MI - Huron Technologies, Inc. offers manufacturers of in-mold coated and flexible polyurethane molded products Mold Release Agent 8016, a water-based release agent designed to help reduce processing costs and increase efficiency.

Robotic spray application of Release Coating 8016 with a low solids output (between 12-18 grams per minute) results in more parts molded per gallon, making molding processes more cost effective. Release Coating 8016 also provides a consistently cleaner mold due to less build up on the mold surface, allowing for extended mold cycles before cleaning.

Automotive steering wheels, handles, office furniture and interior trim components are typical  polyurethane in-mold paint products which benefit from the release technology of Release Coating 8016.

Lasting benefits of Release Coating 8016 include:

Minimal build up - A unique blend of wax and silicone in Release Coating 8016 keeps mold surfaces clean longer, allowing more parts molded per cycle.
Smooth, defect free parts - Release Coating 8016 is formulated to provide excellent release ease and consistent unblemished parts at mold temperatures from 110 - 145°F (43 - 62°C).
More parts molded per gallon - Spray application of  12-18 grams per minute is sufficient in releasing most in-mold painted parts, reduces the amount of release agent needed, and makes the molding process more cost effective.

Since 1991, Huron Technologies, Inc. has been a custom formulator of release coatings, conditioners and cleaners for manufacturers molding polyurethane, rubber, concrete, phenolics and other composites for automotive, electronic, transportation and construction industries.

For more information on Release Coating 8016 or many of our other manufacturing solutions, contact:
Huron Technologies, Inc.
415 Industrial Drive, Leslie, MI 49251
Ph: 517-589-0300
Fax: 517-589-0390
Toll Free: 800-275-4902
Email: info@hurontech.com