Product News: Sensors Monitors & Transducers
Miniature SMT Audio Transducer produces 80 dBA min SPL.
Press Release Summary: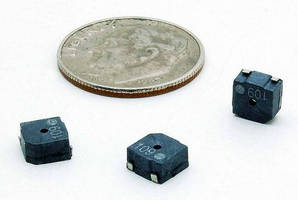 November 29, 2012 - Supplied in 5 x 5 x 2 mm, surface mount package, TRSTE-5025 produces sound pressure level (SPL) of 80 dBA or more within operating range of 2–4 Vp/p @ 90 mA. Top port sound release makes component suited for cell phones, handheld GPS, portable alarms, and other applications with size constraints and battery operation. Output frequency is 4,000 Hz over operating range of -30 to +85°C, which accommodates demands of various operating environments.
Transducers USA, Inc. - Elk Grove Village, IL
Original Press Release
Ultra Miniature Audio Transducer
Press release date: November 27, 2012
Transducer USA, Elk Grove Village, IL has announced the availability of their new Model TRSTE-5025 Surface Mount Audio Transducer producing a very high SPL of 80 dBA minimum in a miniscule 5 x 5 x 2mm package.
The top port sound release of the small sized TRSTE-5025 Audio Transducer makes it an ideal component for cell phones, hand held GPS, portable alarms or for any other application where size constraints and battery operation make it a product of choice.
The TRSTE-5025 is shipped in a tape and reel package making them fully compatible for solder reflow production. This small surface mount unit of 5x5x2 mm in size produces a sound pressure level of 80dBA or more within an operating voltage range of from 2 – 4 Vp/p @ 90mA. Output frequency is 4000Hz at its operating temperature range of -30 to +85°C making them even more suitable for a variety of operating environments.
Current pricing for the Model TRSTE-5025 Audio Transducer is being quoted at $0.90 in production quantities, with delivery quoted at from stock to 6 weeks ARO depending on quantity requirement. Requests for samples, as well as for detailed specifications and specific quantity/price quotations and for a copy of their complete catalog of speakers, microphone and audio alerts should be addressed to Transducers USA's main office and warehouse located at:
1400 Howard Street, Elk Grove Village, IL 60007.
Tel. 1-(888) 921-6400 Fax: (847) 956-1950.
E-mail: info@tusainc.com. Web:
www.tusainc.com
Transducers, USA's new Model TRSTE-5025 Surface Mount Audio Transducer is another example of the company's efforts to offer cutting edge products in addition to its extensive line of piezo buzzers, ceramic elements, speakers, receivers, microphones and ultrasonic sensors and emitters to the telecommunications, medical and specialized product industrial markets throughout North America. Most of their products are certified under ISO-9002 with many having ISO-9001 and/or QS-9000, and are manufactured in modern facilities in Taiwan, China and Korea
Company Contact: Joe Sieracki  (847) 956-1920
Press Contact: Len Cravath (847) 291-8366