Product News: Computer Hardware & Peripherals
Medical Grade Computers have clean appearance, 24 in screens.
Press Release Summary: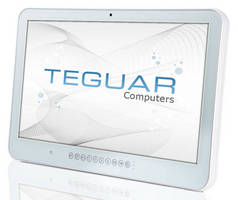 May 23, 2014 - Made for multi-touch use, 2.7 GHz Intel® Core™ i7 Haswell-powered TM-3010-24F (with smart fan) and fanless Intel Core i5 Haswell-powered TM-3010-24 have widescreen HD display with 3,000:1 contrast ratio. Connectivity is fostered via up to 6 USB, 2 COM, 2 LAN, and audio and digital display ports as well as one PCIe/PCI expansion slot. Additional features for medical environments include optional 4 KV LAN/COM/USB isolation card, RFID readers, wireless capabilities, and optional webcam.
Original Press Release
24" Flagship Medical Computers Available for Test Drives
Press release date: May 22, 2014
Teguar introduces spacious 24" computers loaded with features.
Charlotte – Teguar unveils the Cadillac of Medical Computers. Loaded with features, made to be visually appealing, full of power and built to last, the TM- 3010-24F and TM-3010-24 Medical PCs have fine-tuned the idea that medical computers should be made specifically for medical electronic needs. The addition of the 4KV isolation card option allows for extra sensitive and life dependent medical equipment to work in conjunction with these medical grade computers.
The TM-3010-24 Series Medical PCs have intellegence, power and class. They are easy on the eyes with a smooth white rounded bezel, full widescreen HD, and a contrast ratio of 3000:1 made for multi-touch use. Some of the numerous IOs included are up to six USB ports, two COM lines, two LAN lines, a PCI-E/PCI expansion slot as well as audio and digital display ports. Additional features for medical environments include RFID readers, up to 10 function keys, wireless capabilities, microphone and optional webcam. With the many features and the PCI-E/PCI slots, these medical computers are built to adapt over the long term. The TM-3010-24 has low energy usage with its fanless design and Intel Core i5 Haswell processor while the TM-3010-24F with smart fan has up to a Core i7 Intel Haswell Processor with increased CPU speed of 2.7 GHz.
Ensuring patient safety and providing infection protection is high on the priority list. The medical PC comes with an optional 4KV LAN/COM/USB isolation card to make sure electrical equipment connected to any patient care operates safely. The TM-3010-24 Medical Computers are also UL/cUL 60601 3rd edition medically certified and MRSA resistant with the antibacterial housing. The optional back up battery gaurentees no interruptions of programs running 24/7 non-stop like medical staff do.
Ideal environments for these 24" screen medical computers are in operating theaters, display diagnostic imaging, in an ICU or other medically intense environments. Any place where pixels and cleanliness really matter will be ideal placement. Took take a deeper look at our tech specs. Yes, test drives are available. Demo units will be sent upon request.
Company profile: Headquartered in Charlotte, NC, Teguar is a leading manufacturer of fully enclosed fanless and medical grade All-In-One computer solutions. Teguar medical computers are designed to perform 24/7 in extreme healthcare environments. We also ensure that our staff is up to date with the most innovative technology and always offer state-of-the art solutions to meet the fast changing market demands. With Teguar's hardware, customers can build a reliable system and experience a fast Return of Investment.
Contact: Shira Sagal
ssagal@teguar.com
Phone: (704) 960-1761
Fax: (877) 870-3377
4235 South Stream Blvd. Ste L130
Charlotte, NC 28217
www.teguar.com