Product News: Communication Systems & Equipment
Media Converter accommodates 10/100 and 1,000 Mbps transmission.
Press Release Summary: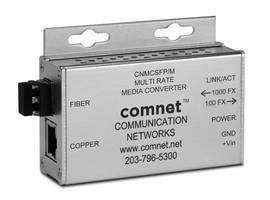 November 19, 2012 - Allowing user to select between 10/100 Mbps and 1,000 Mbps rate transmission, CNMCSFP variable-rate electrical-to-optical media converter is suited for application upgrades to Gigabit transmission or when use of different bandwidth consumption devices are planned. Using small form factor (SFP) devices, single-channel universal converter supports different fiber types, connector types, and distances.
Original Press Release
ComNet Solves Future Bandwidth Challenges
Press release date: October 25, 2012
CNMCSFP Accommodates 10/100Mbps and 1000Mbps Transmission
Danbury, CT. - ComNet, Communication Networks of Danbury, Connecticut, a USA-based manufacturer of fiber optic transmission and networking equipment, is introducing the CNMCSFP variable rate electrical-to-optical media converter that allows the user to select between 10/100 Mbps and 1000Mbps rate transmission, ensuring enough bandwidth for future upgrade to Gigabit bandwidth requirements or where there are many devices that have different bandwidth requirements.
The CNMCSFP is a single channel universal media converter that allows the user to select 10/100Mbps transmission by changing the position of a switch on the media converter. ComNet designed this hardened media converter for applications where there is a potential upgrade to Gigabit transmission or as a universal media converter where different bandwidth consumption devices are planned. The CNMCSFP uses small form factor (SFP) devices, giving the user flexibility in terms of fiber type, connector type and distance. The CNSFPMC is made in the USA and comes with a Lifetime Warranty.
According to Andrew Acquarulo Jr., ComNet President and COO, "This fiber optic media converter solves many challenges our customers face on a daily basis. We've found that many of our customers are looking to future-proof their projects. Fiber Optic transmission gives an application an extreme level of flexibility in terms of available bandwidth. The CNMCSFP now adds to that. In effect, once the unit is in place, there is virtually no IP bandwidth requirement that can not be accommodated using this product."
"With the introduction of the CNMCSFP multi-rate media converter, we continue to round out our Ethernet offerings and solve a multitude of challenges our customers face," said Skip Haight, ComNet VP of Marketing. "ComNet understands the benefits of Ethernet and with the CNMCSFP, we have continued to introduce solutions that eliminate our customers' challenges," Haight continued.
ComNet offers an extensive line of fiber optic video and data transmission equipment as well as a line of Ethernet Network equipment that is uniquely toughened to meet the needs of the Security and Intelligent Transportation System market. Full product line details are available at
www.comnet.net
. Call direct 203-796-5300 or email sales@comnet.net for details.
For more information, please contact Skip Haight at 203.796.5340; or e-mail ComNet at marketing@comnet.net. You may also find ComNet on the World Wide Web at
www.comnet.net
.  Electronic files of this release and photos of ComNet products are available by contacting the ComNet Marketing Department via e-mail at fhaight@comnet.net.
Contact: Frank Haight
Vice President of Marketing, ComNet.
203.796.5300 / email: fhaight@comnet.net