Product News: Adhesives & Sealants
Instant Adhesives offer high temperature resistance.
Press Release Summary: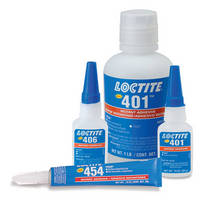 June 26, 2012 - Surface insensitive Loctite® 401(TM)/406(TM)/454(TM) fixture in 15 sec or less and retain bond strength at operating temperatures to 250°F. Medium-viscosity/general-purpose, water-thin wicking, and non-drip gel formulations are available. Low odor and low bloom Loctite® 403(TM)/408(TM)/455(TM)/460(TM) maintain bond strength in high-humidity environments while delivering temperature resistance to 200°F. They are available for gap filling, wicking, bonding porous surfaces, and bonding close-fitting parts.
Original Press Release
Upgrades Enhance Loctite® Instant Adhesives
Press release date: June 8, 2012
Reformulated Adhesives Resist Higher Temps, Higher Humidity Rocky Hill, Conn. - Recent technical upgrades from Henkel Corporation have enhanced the performance of surface insensitive and low odor/low bloom Loctite® Instant Adhesive products. Loctite® 401(TM), Loctite® 406(TM) and Loctite® 454(TM) surface insensitive instant adhesives now offer reliable long-term performance at elevated operating temperatures to 250ºF. Loctite® 403(TM), Loctite® 408(TM), Loctite® 455(TM) and Loctite® 460(TM) instant adhesives are the first low odor/low bloom products to maintain bond strength in high-humidity environments while delivering temperature resistance to 200ºF. For high temperature applications, the three surface insensitive Loctite® Instant Adhesives fixture in 15 seconds or less and retain their high bond strength at temperatures up to 250ºF. All three products cure rapidly on dry or acidic surfaces and bond reliably to a wide variety of substrates, including metals, plastics and elastomers. Medium-viscosity/general-purpose, water-thin wicking, and non-drip gel formulations are available for a range of applications. The four low odor/low bloom Loctite® Instant Adhesives withstand elevated temperatures and maintain long-term bond strength in high humidity environments. Ideal for applications where the aesthetics of the end product are critical, low odor/low bloom instant adhesives minimize the frosty, white film that sometimes develops near the bond line of traditional instant adhesives. The reduced chemical smell allows these low odor formulations to work well in confined spaces or areas with low air flow. Low odor/low bloom products are available for gap filling, wicking into tiny spaces, bonding porous surfaces, and bonding close-fitting parts. All four products resist temperatures to 200ºF, cure on dry or acidic surfaces, and bond to a wide range of substrate materials. Henkel has created a detailed product brochure and website to provide information on the complete Loctite® Instant Adhesive line. For more information and to download a copy of the brochure, go to the new
www.instantsolutions.loctite.com
site. Henkel operates worldwide with leading brands and technologies in three business areas: Laundry & Home Care, Cosmetics/Toiletries and Adhesive Technologies. Founded in 1876, Henkel holds globally leading market positions both in the consumer and industrial businesses with well-known brands such as Persil, Schwarzkopf and Loctite. Henkel employs about 47,000 people and reported sales of $21.7 billion and adjusted operating profit of $2.8 billion in fiscal 2011. Henkel's preferred shares are listed in the German stock index DAX and the company ranks among the Fortune Global 500. Contact Paula Zakrzewski Shepard Image Ink Public Relations Tel: 860-228-8056 imageinkpr@aol.com Henkel Corporation Engineering Adhesives One Henkel Way Rocky Hill, CT 06067 Tel: 1-800-LOCTITE (562-8483) Tel: 860-571-5100
www.henkelna.com/industrial