Industrial PC offers build-to-order flexibility.
Press Release Summary: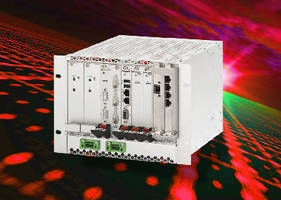 March 3, 2014 - Featuring compact size of half 19 in. rack, Model MH70I is built around F22P CompactPCI PlusIO SBC with Intel® Core™ i7 or Celeron® processor offering VGA interface, 2 USB, and 2 GigE interfaces as well as up to 16 GB DDR3 DRAM. Two PSU slots ensure redundant, safe power supply and support AC, DC, or UPS PSUs. Available with fanless operation or forced-air cooling, PC includes pre-installed software package and enables combination of CompactPCI, CompactPCI Serial, and PCI or PCI Express cards.
Original Press Release
Cost-Effective Build-to-Order Industrial PC with Maximum Flexibility
Press release date: February 20, 2014
Nuremberg, Germany — The MH70I Industrial PC offers an open and flexible system platform based on high-performance and robust CompactPCI boards, and complete software support. It is configurable with a selection of standard hardware, software and accessories and can be used in a multitude of industrial applications, as well as in vehicles.
Pre-Configured System Platform for Fast Time-to-Market
The MH70I combines flexible functions tailored to industrial applications with robust 19" mechanics, scalable high-end computing and graphics performance, and reliable system management. MEN's first 19" Industrial PC owes its modularity to a combination of CompactPCI, CompactPCI Serial and PCI or PCI Express cards.  A pre-installed software package with all drivers required for Windows Embedded Standard 7 makes the MH70I a cost-effective, reliable and long-term available platform with a short time-to-market.
Being the first member of MEN's new system family with a pre-defined basic functionality, the MH70I is tailored to industrial applications. It boasts a compact size of a half 19" rack, thus making it possible to install two systems side-by-side in a standard 19" housing. It offers space for nine individually configurable slots and can also be wall-mounted.
Two PSU slots ensure a redundant, safe power supply and support AC, DC or USP PSUs. Two slots are provided for both CompactPCI and CompactPCI Serial peripheral boards. Two additional slots, which can either be used for PCI or PCI Express cards, or for two CompactPCI Serial peripheral boards as well as the CompactPCI PlusIO system slot, complete the set-up of the modular system.
The Industrial PC is built around the F22P CompactPCI PlusIO SBC with Intel Core i7 or Celeron processor offering one VGA interface, 2 USB and two Gigabit Ethernet interfaces at the front as well as up to 16 GB DDR3 DRAM. 
Regarding the choice of the peripheral boards, there are almost no limits to your creativity. Within a pre-defined set of boards you can select analog or binary I/O via M-Modules, fieldbus functions, SATA hard disks or wireless functions, as well as Ethernet interface boards or Ethernet switches. A SATA RAID with up to four HDD shuttles can be built in the CompactPCI Serial slots.
Compact half 19" application-ready system
Fanless operation or forced-air cooling
Intel® Core™ i7 or Celeron® processor
Up to 16 GB DDR3 DRAM soldered, ECC
Single or redundant power supplies or uninterruptible power supply (AC or DC)
2 CompactPCI® slots for fieldbus functions, RS232, analog I/O, digital I/O, Ethernet
2 CompactPCI® Serial slots for SATA RAIDs, Ethernet
2 PCI or PCI Express® cards for customized functionality
Pre-configured operating system and drivers
Price depending on configuration.
For product information please go to
www.men.de/products/19MH70I.html
. 
   Twitter
   Facebook
   Google+
   YouTube
   RSS
MEN Mikro Elektronik – Profile and Mission
Embedded Solutions – Rugged Computer Boards and Systems for Harsh, Mobile and Mission-Critical Environments
Since its founding in 1982, MEN Mikro Elektronik has focused on innovation, reliability and flexibility to develop and produce standard and custom computing solutions that employ the highest technology levels. The company – with more than 250 employees worldwide – provides a robust offering of highly reliable embedded COTS boards and devices widely used in extreme environmental conditions found in industrial and safety-critical applications.
MEN Mikro Elektronik's product offering comprises a huge selection of:
CompactPCI / PlusIO, CompactPCI Serial and VMEbus boards and 19" systems
Standardized computer-on-modules with carrier board development support
Standardized mezzanine I/O cards to complete system functionality
Ethernet and fieldbus network interfaces, switches, routers and gateways
Scalable box PCs and panel PCs with easy adaptation capabilities
Safe computers certifiable up to SIL 4 and DAL-A
For individual requirements, starting with development through design-in and beyond, MEN provides its customers with advice and support as well as with system design, configuration and environmental qualification in accordance with industry standards.
The company's core competencies encompass x86 and RISC processor architectures, development rules for safe applications, analog I/O design, FPGA technology and Windows, Linux and real-time operating systems. Additional expertise includes RAMS and obsolescence management as well as the development of computing hardware for operation in harsh and extreme environmental conditions.
MEN Mikro Elektronik's computer solutions are used in harsh mission- and safety-critical environments found in the transportation (rail, road, air, sea) and industrial (automation, power & energy, medical) markets.
The company is certified to ISO 9001, ISO 14001 (environment), EN 9100 (aerospace) and IRIS (railway) quality management systems, provides systems according to ISO 7637-2 (road traffic) requirements and is a member of several industry associations, consortiums and alliances, including VITA and PICMG.