Product News: Electrical Equipment & Systems
Hospital Grade Power Cordsets ensure patient safety.
Press Release Summary: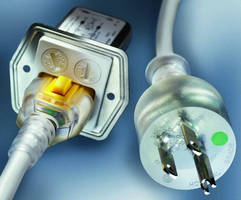 September 11, 2012 - In medical/dental applications, V-Lock power cords protect against unintended equipment disconnect. Plug end of cordset meets UL 817 requirements, and solid pin construction and extra-safe wiring are visible through transparent material. Lever on cord connector latches into notched power inlet, and ground contact has make-first and break-last configuration. Detachable hospital grade power cords come with EN/IEC 60320 C13 and C19 cord connectors on equipment end and NEMA 5-15 on plug end.
Original Press Release
Schurter Introduces Hospital Grade V-Lock Cordsets
Press release date: September 10, 2012
V-Lock cordsets protect against unintended disconnection of medical equipment Santa Rosa, California - Schurter expands on its standard range of V-Lock power cords to include two types designed to ensure patient safety in critical medical and dental applications. The plug end of the cordset is stamped with a green dot, indicating that it meets the rigors of UL 817 testing. The solid pin construction and extra-safe wiring are visible through the plug's transparent material. The V-Lock system is an already proven design for safe and reliable power connection, protecting against accidental disconnection of the power cord from the equipment. The cord connector has a lever that latches into a notched power inlet. It is removed from the inlet when the lever is depressed and the catch mechanism released. The make-first and break-last design of the ground contact is inherent to its safe design. The detachable hospital grade power cords are offered with EN/IEC 60320 C13 and C19 cord connectors on the equipment end, and NEMA 5-15 on the plug end. The power cord with the C13 cord connector and SJT 3x16 AWG cable, is rated 13A/125VAC. The power cord with the C19 cord connector and SJT 3x14 AWG cable, is rated 15A/125 VAC. The power cord cable is white and measures 10 feet, or 3 meters, in length. The new power cords are compatible with a host of Schurter C14 and C20 style appliance couplers and power entry modules, including the most popular types used in medical applications. The V-Lock hospital grade power cords are UL listed and CSA approved. Pricing for the C13 is about $11.00 each per 100 pieces and the C19 is about $16.00 each per 100 pieces. Additional information on the V-Lock power cord retaining system can be found on Schurter's website http://www.schurterinc.com/Components/Connectors/Cord-Sets. Contact Cora Umlauf at 800 848-2600 or info@schurterinc.com for sales and product information. About Schurter Inc. The Schurter Group was founded in Switzerland in 1933. With more than 75 years in business, Schurter continues to be a progressive innovator and manufacturer of electrical and electronic components. Circuit Protection (fuses, fuseholders and circuit breakers for equipment), Connectors, EMC Products, Switches and Other Products make up the Schurter product Groups. Schurter's product innovation focuses on safe supply of power and making the interface between human and machine easier. Schurter's market focus is in the area of IT / Telecom, Medical, Space and Renewable Energy. Schurter, Inc. Santa Rosa, California, is the exclusive North American sales and distribution office for the Schurter Group. SCHURTER INC. 447 Aviation Boulevard Santa Rosa, CA 95403 Telephone 707 636 3000 Facsimile 707 636 3033 www.schurter.com