Product News: Machinery & Machining Tools
Horizontal Turning Center provides machining flexibility.
Press Release Summary: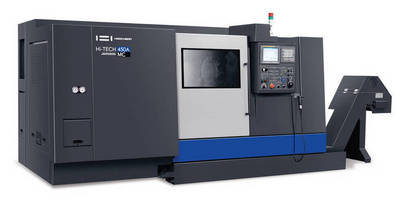 February 7, 2013 - Hi-TECH 450 features 500 mm turning diameter; 1,350 turning length; available chuck sizes of 10, 12, and 15; and through-hole diameter of up to 132 mm. Spindle with integral motor offers low-speed of 800 rpm and max speed of 3,500 rpm with respective 20 and 24 m/min feed rates for X and Z axes. Turret capacity is 12 tools, and turret indexing time to adjacent tools is 0.25 sec. Other features include 45° angle bed frame, rectangular guide surfaces, and geared transmission system.
Hwacheon Machinery America Inc - Vernon Hills, IL
Original Press Release
HWACHEON Introduces Heavy-Duty Horizontal Turning Center
Press release date: January 31, 2013
The Hwacheon Hi-TECH 450 turning center with its small footprint provides space efficiency, while offering the largest turning diameter in its class of mid-size lathes at 500mm as well as turning length of 1350 mm. With available chuck sizes of 10, 12 or 15, through-hole diameter of up to 132 mm and a range of options, including Y-axis machining, provide superior capability and machining flexibility. Hi-TECH 450 can be configured to ensure efficient setups for products including hydraulic valve, connectors, flanges or long shafts, particularly for the oil and gas industry
The Hi-TECH range of six machine configurations offers a great deal of versatility for high speed or high torque operation. A high-powered spindle with integral motor offers a low-speed of 800 rpm for high-torque turning and maximum speed of 3,500rpm with a rapid feed rate of 20/24m/min (X/Z). Turret indexing time to adjacent tools is only 0.25sec. Turret capacity is 12 tools.
Hi-TECH 450 has an integrated 45-degree angle bed frame to minimize heat distortion and promote chip-shedding and work area access. The had-scraped wide guide surface and the unique bed design absorb the vibration sufficiently, to ensure high degree of stability during hard turning. All guide surfaces are rectangular and incorporate tack guide to maintain rigidity and accuracy in prolonged operation.
The geared transmission system permits high-torque turning at low speed and also high-speed turning. The transmission is separate from the spindle motor avoiding the effects of transmission heat and the vibration on the spindle.
Hi-TECH450 has an optional  Y axis which can be easily added to MC/SMC type of the Hi-TECH 450, reducing cycle times for multi-function operation.
About Hwacheon Group
Under the Hwacheon Group, Hwacheon Machinery Company, founded in 1975, is a builder of large size vertical and horizontal lathes, special purpose machines, manual turning and milling machines.
Hwacheon also  produces various precision automotive engine parts, including cylinder blocks, crankshafts, and cylinder heads for automobile companies like Hyundai and Kia, which also have more than 4000 Hwacheon machine tools in their plants.
Seoam Machinery Industry, the manufacturer of gears and chuck was established in 1978. TPS Korea was established in 1995 and is a manufacturer of automotive production systems. Hwacheon Group operates its own foundry producing castings for the Group's key components and for robot manufacturers.
Hwacheon Machinery America is located in Vernon Hills, IL, Michael Huggett, President.
Tel. 847-573-0100.
www.hwacheon.com
North American press contact: Dave Arnesen, Arnesen Marketing,
dave@arnesenmarketing.com
Tel. 810-229-2299